Varsity boys soccer comes out with a win on senior night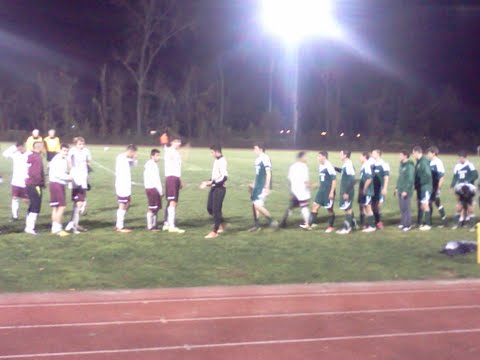 Senior night is when a sport has its last home game of the season and all of the seniors on that team are recognized for all their hard work and years of playing that sport.
On Oct. 22 the boys varsity soccer team had its senior night against Minnechaug.
Ludlow had 13 seniors that were recognized in the beginning of the game. They were: Andre Ferreira, Beraa Ibas, Christopher Martins, James Patterson, Jeff Alves, Jeff Danek, Jordan Martins, Kevin Borowiec, Kristos Stebbins, Matt Dent, Nick Nogueira, Pat Morais, and Troy Nascimento.
Coach Greg Kolodziey started his seniors and switched them in and out of the game with the other seniors. During the second half, he went back to playing his starting team.
"The seniors have been a very stellar group. It's a very talented group that has led the team from the start. We'll definitely miss them when they leave," said Kolodziey.
In the first half of the game, senior Matt Dent put the Lions up 1-0 against Chaug.
"It felt great, it was nice to score in front of my family. More importantly we played well as a team and hopefully we can continue to play as well as we did, if not better going into the playoffs," said Dent.
The Lions are now 12-2-3 and they clinched a spot in playoffs coming in second place. Their last game is on Monday, Oct. 28 away at East Longmeadow at 7.
"The season has been going pretty well. It's always a learning and growing process for the team as the season progresses. We hope to be at our best when the playoffs start," said Kolodziey.