Ludlow and East Longmeadow clash during varsity soccer game
The Ludlow Lions varsity boys soccer team won their game against East Longmeadow 4-1 on Sept. 12 and still remain undefeated.
 "It was a pretty crazy game," said the Ludlow boys varsity coach Greg Kolodziey. "Quite physical, especially after East Longmeadow fell behind."
In the second half of the game, junior Mikey Goncalves hit number 21 from East Longmeadow and the player went down. Number 21 was carried off the field in a golf cart and about 10 minutes later, an ambulance arrived to take him to the hospital.
According to one anonymous source, "21 was hit in his nerves in his back, which gave him some back problems. He is now recovering,"
The player wearing number 1 from Ludlow, junior Zack Frangules, went in to kick the ball and his knee hit East Longmeadow's goalie in the face, which gave him a bloody nose. It turns out the goalie had a broken nose and received a concussion from the hit.
"I was going for the ball hard in a tackle, but I didn't try to hit the goalie in the face on purpose. I just kind of walked away afterwards because I didn't want to get thrown out of the game," said Frangules.
The goalie's teammates were mad because the referees didn't call anything and they started to push Frangules but he didn't do anything back, and his teammates came to help him out.
"He's my teammate and I stick up for my players," says senior Chris Martins.
Both teams were pushing and shoving each other until other players and refs took control of the situation. Fans in the stand reported that it looked like the teams were going to break out into a full on brawl.
The game continued but it was still physical and tense. Ludlow and East Longmeadow were playing rough and it the tensions could be felt by the crowd. This is when a couple of players from both sides started to receive yellow cards.
If a player receives a yellow card, he leaves the game temporarily.
Towards the end of the game, number 24 Gabe Pereira from Ludlow, intentionally pushed one of East Longmeadow's players out of bounds while going for the ball.
When the game came to an end, to avoid possible confrontations, Athletic Director Tim Brillo made all of the students from Ludlow that were in the stands sit and wait until people from East Longmeadow cleared out. When some people finally cleared out, Brillo made everyone all walk around the back of the bleachers to leave.
Once Brillo made the announcement, telling the crowd to sit back down and wait to leave, and everyone was confused and didn't get what was going on.
"I just want to make sure everyone leaves safely and without incident," said Brillo.
After the game, the Ludlow boys team looked like they were escorted off the field by two undercover cops and the refs.
Finally, East Longmeadow came off the field, went onto their bus.
About the Writer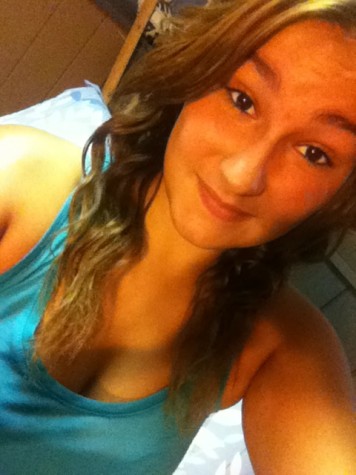 Stacia Papuga, Sports Editor
Making her way into her sophomore year, this crazy, outgoing, adventurous and athletic girl is now taking her place as "Sports Editor." Other than...