Ludlow dissapoints at home course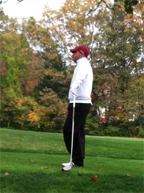 The Ludlow Country Club hosted the M.I.A.A Western Mass. Golf tournament on Oct. 24 and Ludlow High School had a disappointing finish to their season.
The Ludlow Lions qualified with a record of 8-2 in their division and entered the tournament with some experience. Having four seniors in the tournament out of the six players who qualified, their maturity level and home-course advantage looked to be huge advantages and were favorites to win the tournament.
Both Seniors Joe Francisco and Thane Schinabeck made states last year and looked to use their "super seven" skills to repeat and make states again. The top seven players in Western Mass are ranked "super seven," and both Francisco and Schinabeck earned this honor this beginning of this season.
With several LHS spectators there, the pressure was on for the Lions golf team. With unfortunate bounces and a few missed hits, the Lions unfortunately struggled to qualify for the next round.
Francisco and Junior Nick Belucci shot the lowest on the team with an 82, but needed a 79 to qualify for states.
"It's just a tough way to go out," said Francisco. "It was honestly just brutal."
The rest of the Lions had disappointing scorecards. Sophomore Marc Miller shot an 88, Senior Casey Nolan shot 90, Schinabeck shot 93, and Wes Nelson shot 95.
Disappointingly, no members of the Lions team qualified for states. The team finished their round with a score of 342, but Longmeadow went on to win Western Mass. with a score of 302.