The Big 3: James, Wade, and Bosh lost it all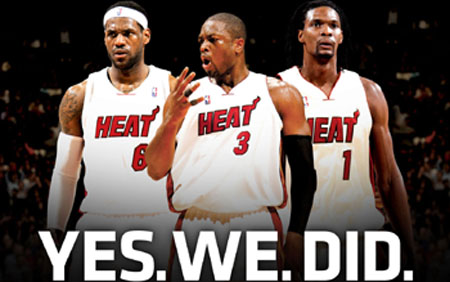 So guess what, the Big 3 DIDN'T do it! Lebron James,  Dwayne Wade and Chris Bosh didn't get their championship rings.
 And I think it's funny.
I am glad they lost because it shows that you can have the best players on your team and still lose. James left the Cavaliers because he wanted a championship that he didn't end up getting with the Heat.
Plus they got beat by the underdogs which just makes it even better. The Mavericks beat the Heat…that's insane. It just proves to never underestimate your opponents. After James and Wade trashed talked Dirk Nowitzki on camera, they got what they deserved.
Their team was also made of ego; James, Wade and Bosh let it get to their heads too much. They were cocky and you could see it in the way they played, James and Wade were definately the cockiest of them all. Trash talking Dirk and they hadn't even won yet. I mean they have the right to be cocky because they are phenomenal players but your ego isn't going to get you anywhere or get you a championship.  You could even see it in their bench players. Eddie House acted like he was so good because of the team he was on; but he rarely played, especially during the Playoffs, and he got to keep the bench warm while Lebron, Wade and Bosh did the work.  They were a team that was bred and run off ego which didn't help them win a championship.
They were also the most talked-about and anticipated team this season ever since Lebron signed with the Heat. Much of the sports talk was how the Heat had a stacked team(which they did) and were going to take it all, but they lost it all in game six. It is surprising because the Heat had three of the best players in the NBA on the same team and no one saw the Mavericks rising to the top. The Heat were this year's favorite team and in the end they didn't win. The Mavericks took it all, they not only took the championship title but led the Heat to the greatest defeat ever.
Now we are left to question what is going to happen next season? Will Lebron stay in Miami or will he go? Will the team be able to come back from this loss or will it continue to effect them next year?
That's all unsure but for now we can sit and bask in the glory of the Heat's defeat.