LHS Needs a New Track
Athletes participating in track and field suffer from injuries and can not run to their full potential due to Ludlow High's old and worn out track.
"We constantly practice on this track and it really doesn't benefit us because our athletes end up injured," says junior sprinter Angel Estrada.
Last spring, Estrada developed shin splints during her track season, leaving her struggling to run in practice and at meets.
According to Medical News Today, shin splints involve pain or tenderness in the tibia caused by constant running on rough surfaces. Estrada felt sharp pain in her legs when she ran or jumped, slowing her down. In order to recover, she needed to practice lightly and sit out during some of the meets.
Based on her unfortunate experience with the track, Estrada thinks "we have a lot of great athletes who deserve a quality track to use for practice."
The track contains many holes and no longer gives a cushion of support for runners. During one of the team's meets last Spring, rain began pouring down, leaving several puddles in the track. To prevent the danger of slipping, coach Brian Walsh attempted using a leaf blower to force the water off of the track before each event in the meet.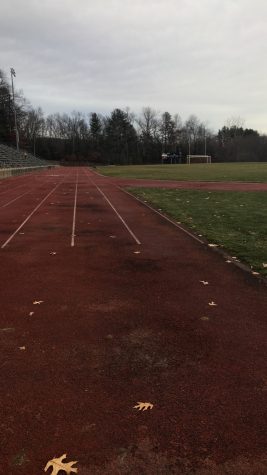 The condition of Ludlow High School's track is considered shameful to many track athletes. "It's embarrassing when other teams come to compete on our track when it feels like running on cement," says sophomore track runner Emily Lima.
Luckily, Ludlow High's athletic director, Tim Brillo, agrees that "our major priority right now is to renovate our track."
Brillo reports that the current track was last renovated between 16 and 18 years ago, making new renovations long overdue.
In order to raise money for track renovations, Brillo began a new fundraiser. Anyone has the opportunity to buy a brick to customize. These bricks will be placed around the lion statue displayed in front of our school's baseball field. So far, 45 people contributed to the movement to build a new track by purchasing bricks. Brillo hopes for more contributors so our school can renovate the track as soon as possible.
Track maintenance is crucial and Ludlow High clearly lacks proper maintenance. According to Goddardcoatings.com, a track should remain free of matter such as dirt and leaves with frequent cleaning. In addition to this, heavy vehicles should avoid traveling over a track. Other athletes who use the track, such as cheerleaders and dancers, should place a mat over the track before use.
For the safety and benefit of Ludlow High School's track and field athletes, the track should be renovated and properly maintained.