Tasty Tuesdays to return June 20
Khruanha Naiyanan
Imagine this. It's Tuesday. It's a bright and sunny day, and as you walk on the hard asphalt feeling every stomp, you hear noises of people talking, running, and eating. You see your friends waving at you to sit at their table, and you see food trucks and vendors everywhere with lines of people just smiling, waiting earnestly for food, for merchandise. 
You are very happy and you feel as if this could go on forever and that you could never be bored. This is the feeling of Tasty Tuesday.
Tasty Tuesday, a fundraiser for Ludlow High School-related programs in which food trucks and vendors from all around set up in the Ludlow High School parking lot, will return this summer for its second-year run. Unlike the previous year, however, Tasty Tuesday will only last for the duration of two weeks instead of the entire summer.
The decision to shorten Tasty Tuesday from the whole summer to mere two weeks was due to declining attendance and unpredictable weather. 
Adelei Bernard, one of the main organizers and advisor for the class of 2024 explained, "Last year we did every Tuesday but what we noticed is that as the summer went, less and less people came and we had a lot of wet weather closer to August and in August. The heat in the parking lot is also pretty terrible in July."
Not only was the attendance declining and the weather unpredictable, the preparation for the event each week was very time-consuming, even with the volunteers' help.
"It is a lot of work setting up and cleaning up every week, and we had to cut vacations short for some of us…It was myself, Ashley Mourao, and Sonia Jaworski setting it all up and cleaning up and getting it all organized, which is a lot for an entire summer," Bernard said.
Organizing the fundraiser sure is a lot of work, especially when you have to communicate with many food truck owners and vendors. Some of the food trucks and vendors that came last year were Macken's Sliders, Chompers, Batch Ice Cream, Cousins Lobster, and No Coast Kitchen.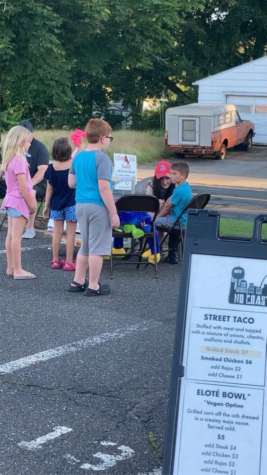 When asked how food trucks were contacted, Bernard explains that she went to a number of food truck events the summer before, put out flyers, and gathered a bunch of business cards.
"We literally reached out to over 100 trucks through email or social media and compiled a good list of trucks and vendors. A lot of towns do 'food truck Fridays', and we were trying to think of something catchy like that, which is how we came up with Tasty Tuesday. It's a catchy slogan I think, and no towns do a Tuesday night that I know of." 
Tuesday is indeed an interesting day to pick for a food truck event. It is a weekday, but most food trucks are not booked on that day, and the event takes place after people finish their work so they can take their children and attend the fundraiser anytime. Having volunteered at the fundraiser personally, I know the atmosphere that these people and their children created was very cheerful and lively. 
In fact, many reported being content with their time at the event and appreciated the patrons and organizers for supporting the community. 
Jennifer Ollquist, an English teacher at Ludlow High School as well as the person in charge of the books donation stall at Tasty Tuesday, stated,"It was a family atmosphere, and my kids love coming. [I like] interacting with my students and all the fun things that you guys [Tasty Tuesday] had for them to do. My husband and I loved the food, and even my parents came and joined us for dinner and ice cream. A lot of people in the community really spoke highly of what a great atmosphere it was for the community." 
Rachel Roach, a junior at Ludlow High School and a volunteer at the fundraiser, adds, "I like how Tasty Tuesday was a fun dynamic to help pull school spirit, family, and friends all into one event. The community was able to benefit and create lasting memories. I am able to recall funny stories all the time about Tasty Tuesday. It helped me get up and out of the house and help the community I belong to."
Even the food trucks that participated were satisfied and wanted to return as Bernard exclaimed, "This year those vendors [from the year prior] reached out to me wanting to come back because it was fun and, like I said, most trucks aren't booked for a Tuesday."
Based on these responses, the fundraiser was very well received. People like it for its lighthearted atmosphere and engaging community. This is why many were disappointed that this year's Tasty Tuesday fundraiser will be shortened. 
"I feel like it sucks. It leaves less opportunity to have customers due to plans, vacations, etc. [But,] I look forward to it once more to get out of the house and enjoy being with the community I have been a part of for 17 years. [Tasty Tuesday] gets me up and going every Tuesday and is usually the highlight of my weeks in the summer," Roach said.
Although this year's Tasty Tuesday will be shortened, it will put less pressure on the organizers like Bernard, Mourao, and Jaworski. Last year was the first time they had attempted something like this and the turnout was great; perhaps this year's turnout will be even greater since they can focus solely on these two weeks.
As for volunteers, Bernard assured that the organizers will still need volunteers' help to prepare, manage, and clean up the event, so any students looking for NHS volunteer hours are welcome to volunteer. This summer's Tasty Tuesday is set for June 20th and 27th.