Sports related injuries take their toll on student athletes
The Escalation of Athletic Injuries
As a student-athlete, there is no greater fear than hearing you can't compete in your meet or play in your game. Even worse, the fear of missing an entire season or longer, due to an injury. 
But this is the case with many students at LHS. These sport-related injuries not only impact their physical health but also their mental health. 
Painful Patellas
Ella Roy, a 17-year-old junior, has been out of sports for over a year with a knee injury. Roy plays soccer all year round and indoor and outdoor track during the winter and spring seasons, usually occupying much of her free time. 
During a soccer game in May of 2021, Roy was fighting for the ball with another girl when she was pushed into a ditch, tearing her meniscus. Then, the following month, in June of 2021, she then tore her ACL passing the ball to a teammate. Roy states how she instantly knew it was her ACL, and how it "sounded like a rubber band snapping," resulting in her going down and being taken out for the rest of the game. She had already been in physical therapy for about a month because of her meniscus tear and was encouraged to get surgery to fix her ACL. 
Since getting injured in May of 2021, Roy has undergone surgery, continued physical therapy, and was cleared at the beginning of May of this year, almost a whole 365 days after her initial injury. Her life was greatly impacted because of this injury, from the way she had to move around while recovering from the way her daily activities were altered.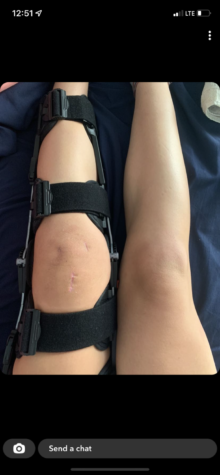 "Moving around school, especially with a backpack, was one of the most difficult things," says Roy.
As an all-year-round soccer player, not being able to play sports for an entire year was deeply upsetting to her. Ella was diagnosed with anxiety sometime in the last year and she attributes much of her stress to these injuries. Along with getting a physical therapist, she has also gotten a regular therapist to combat everything she is dealing with. Despite these challenges, Ella has been quite successful with her physical therapy.
Ella Roy's road to recovery has been a long process with many setbacks, but she believes that she is "stronger than ever," returning to her first soccer game during Memorial Day Weekend. Ella hopes to play D1 soccer in college and continue getting better at the game she loves. 
Falls and Fractures
In a different soccer game in the middle of April of this year, Olivia Ferrero, another 17-year-old junior, fractured her radius and chipped her ulna, the two parallel bones which make up the arm from the wrist to the elbow. 
Ferrero also plays soccer and runs track for LHS. She broke her right arm while battling another girl for the ball during a club soccer game. While fighting for the ball, both girls were shoving each other, leading to Ferrero unexpectedly falling and landing on her arm. 
Ferrero says she "instantly knew [her] arm was broken because it looked out of place."
Ferrero is looking at about 8 weeks of recovery since the incident — 4 weeks in a cast and another 4 in a brace. However, she doesn't believe she will have to do any physical therapy afterward.
This injury has been hard on Ferrero because she can't finish her soccer season or even accomplish everyday tasks, such as showering, without struggle. She is right-handed and, because she broke her dominant hand, school has been a challenge. Many of her teachers have made adjustments to accommodate for her not being able to write, and Ferrero was still able to complete her AP exams on the computer, which was a silver lining in disguise
"It was so much better. [Using the computer] felt unfair and was a huge advantage. 100 percent," she said.
Despite the challenges Olivia Ferrero has faced, she is still optimistic about her recovery and playing club soccer in college.
How to Inhibit Injuries 
From arm injuries to broken legs, the number of students coming to see our athletic trainer has increased, especially since the return of sports in the fall of 2020 after our 2020 spring season was canceled. 
The LHS's athletic trainer, Ashley Mourao, gives us some insight into the influx of athletic-related injuries at our school. 
"I think there could definitely be a correlation between the rise of injuries and the break away from sports," says Mourao.
This year alone, over 120 evaluations were done to diagnose and treat a variety of injuries, which doesn't include the number of athletes who complain of shin splints and other all-too-common ailments. 
Mourao has been working as an athletic trainer at LHS for eleven years and has seen injuries of all types of severity at our school. Seeing and diagnosing hundreds of students every year for different types of athletic incidents, she definitely believes that many injuries can be preventable. 
While there could be many different answers and possibilities, Mourao assumes the biggest cause of athletic injuries at our school is from playing the same sport all year round. This is because the same muscle or muscle groups are being overworked, leading to stress fractures, torn ligaments, and other such injuries. 
Mourao says, "Student-athletes need to get in the weight room more regularly to prevent injury."
Ashley Mourao also suggests playing a multitude of sports to give different muscles a needed rest and stretching before and after practices and games. Taking long breaks from physical activity or starting a sport with no training beforehand is also not recommended. 
In order to continue playing the sports you love, you need to put in the work to prevent injuries.