Close Call: Juniors take the "dub" for day one of Spirit Week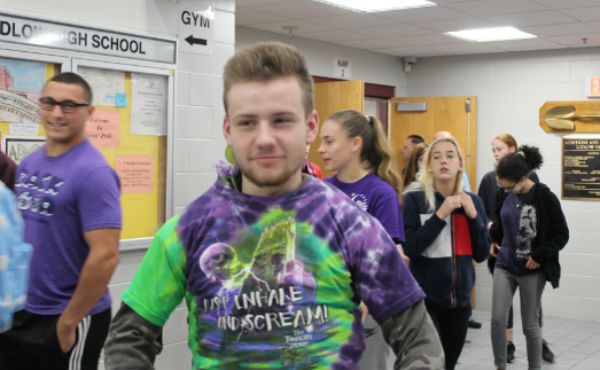 Spirit Week kicked off this Monday with all Ludlow High students wearing purple for suicide awareness. Suicide is the tenth leading cause of death in the United States and about million people commit suicide each year.
Spirit Week this fall is dedicated to supporting the "causes" that are impacting our students and our community.
Physical Education teacher Gary Elson shared his opinion on this week's spirit days: "I think it's great. Bringing awareness to certain causes in our community is always a positive," adding that "It's a really fun way to get some school pride and the school community together."
Math teacher Gerald Martin was also excited about the "Fall Fest" Spirit Week theme. ¨I think this week's ideas are outstanding and the variety is very great.¨
Historically ,the freshman class has not faired well during Spirit Week competitions.
¨I feel like Freshmen are definitely going to lose,¨ says Freshman Alina Banas.
Even faculty members don't expect much from the Class of 2022: ¨The freshman have no idea how to win until the second spirit week,¨ says Mr. Martin.
Results from Day 1:
The Juniors take the lead on day one with a 63% participation rate. The sophomores trailed slightly with 61%. The seniors came in third, followed by the freshman who had a 50% showing.
Will the Freshmen step it up? Will the Juniors continue their winning streak? We'll find out tomorrow. Make sure to wear pink to support breast cancer awareness.