Dodgeball Marathon Recap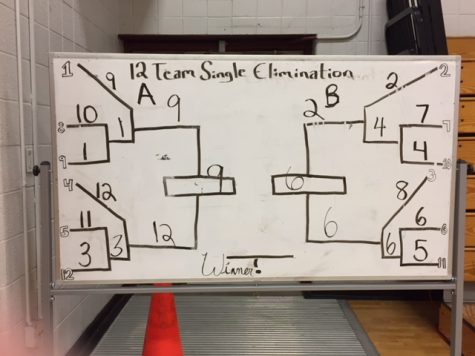 The Hit $ticks won the fourth annual Dodgeball Marathon on Jan 20. The team consisted of 10 junior boys. This event was sponsored by the class of 2018 and was held from 4:00 to 10:00 p.m.  
A total of 13 teams competed — 12  student teams and one teacher team, with  approximately 120 students participated in the event. They played in a round robin style and  "Hit $ticks" and "The Average Joes " battled in the play-off round, with  The Hit $ticks coming in on top. Winners received dodgeball marathon medals and took the title Dodgeball Marathon 2017 Champions.
Joseph Banas, Matthew Goncalves, Jacob Knowlton, Daniel Valadas, Jacob Pariseau, Justin DeBarge, Drew Brissette, Jacob Batista and Anthony Syrek competed on the Hit $ticks team.
The team had a 6-6 record and at one point in the game they only had one player, Drew Brissette, against three or four other boys on the opposing team. The boys did not expect to beat their opponents and win the whole marathon.
"It was so fun to be part of the team and actually win it," says one of the winning players, Jake Batista. "It's funny because if you ask us we're totally our biggest fans and could talk about it for hours."
The idea of having a dodgeball marathon event for the students and staff began with Luis Fialho, class of 2016 graduate.
"It was a great success," says Junior class adviser Diana Sands. "It is always a good time for the kids who play."