Seniors win Battle of the Classes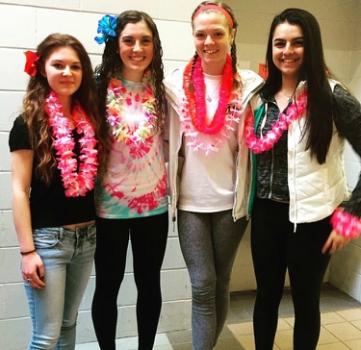 In a narrow victory over the juniors, the senior class won battle of the classes for the 2015-2016 school year.
Going into the third Battle of the Classes competition the week of April 11, the junior and senior class each had one win from previous Spirit Weeks. The seniors broke the tie after winning the last spirit week.
The classes competed in The Price is Right and Family Feud games on  April 14 to end the week. The juniors won the competition and received sunglasses as a prize.
"It was fun playing Family Feud and of course beating the seniors," said junior Nate Feleciano.
Although the juniors won this competition it wasn't enough to win for the whole year. The juniors finished four points behind the seniors at the end of spring spirit week. The seniors finished with 94 points and the juniors had 90.
"It felt exhilarating to keep up the tradition of seniors winning spirit week for the year," said senior Sharon Williams.
The freshmen and sophomores also had their own competition involving The Price is Right and Family Feud. The freshmen won and finished third overall for the year.
"It's upsetting that our class doesn't participate," says sophomore Vanessa Bernardo, "I wish more people would get involved."
Below are some highlights from the Price is Right and Family Feud competitions.