Sophomore Field Trip to NYC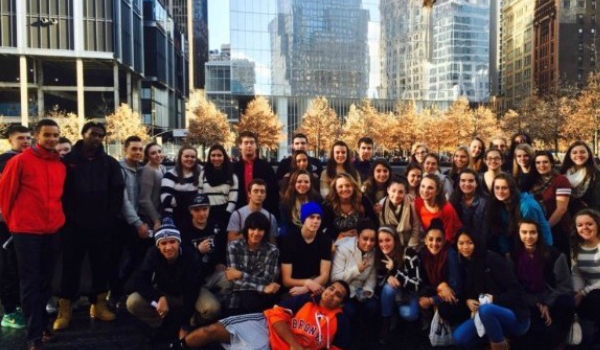 Ninety LHS sophomores gathered in the back gym at 6:30 on Monday morning as we prepared ourselves for an exciting day in the big city. Except by the end of the day many students had substituted the term "big city" with "big problems."
The day sadly had a domino effect of disappointment for many students and chaperones.
The first pitfall was the five-hour bus ride to the city. The drive was only supposed to take approximately three hours with traffic. "The bus ride there was fun in the beginning but once we arrived in NYC I think we all began to become a little impatient," said Hayley Procon. The reason our bus ride took so long was that the bus driver took us through the city rather than remaining on the highway and taking an exit closer to our venue.
Due to the long bus ride students were only given roughly an hour to explore the city. This was not enough time to both shop and eat for many groups. Some groups only ate, some groups only shopped and others raced to do both. "I wish we got to spend more time exploring the city," said Filipa Martins.
After "free time," students all made our way to the 9/11 Memorial. While looking around outside of the memorial and the fountains many students were in awe. "The new world trade center and the fountains were breathtaking," described Jon Dos Santos.
Many considered the museum the best part of the trip. Students spent around an hour and a half inside the museum. "I thought the museum was really cool," explained Abbie Terrinca, "I thought it was very interesting but we didn't have that much time in it, I didn't get to see everything," adding that the memorial was very interesting and was a great tribute to the victims of the attacks.
Time soon ran out, however, and the students boarded the busses for Ludlow. The drive back took about the same amount of time as the five-hour ride to the city, but for many students it seemed longer. "It was a long ride home," said Abby Anselmo, "I felt car sick from all of the stop and go traffic." The busses arrived in Ludlow at around 9:30.
"I enjoyed the trip other than they bus ride there and back," said Lexi Kipetz. Many other students shared the same opinion as Lexi. The trip was very rushed but that is usually what happens when you go to the city for a day.
According to many students, the blame for the disappointment definitely goes to the bus drivers. Frankly, if they took a different route into the city they could have saved some time and patience.
Many wouldn't say the whole trip was a bust though. "It was fun to spend time with my friends," said Tiago Dias. Spending 10 hours on a bus with classmates definitely gives you time to bond with one another.