LHS Portuguese Club hosts São Martinho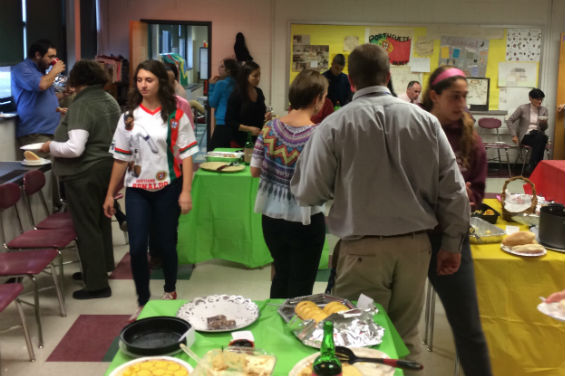 This past week the LHS Portuguese club hosted its 11th annual São Martinho in E202. This day is a celebration in Portugal for Saint Martin and for the new wine that was made. The real date for São Martinho is November 11, but there was no school on that day.
The celebration at school was for teachers and members to enjoy themselves and the food being served. Club members were asked to make and bring various traditional Portuguese dishes. Of these included folar, pasteis de camarão, bolo de bolacha, and bifanas. Of course, there were some typical treats like cookies and bread for those who did not appeal to the ethnic foods.  All teachers in LHS were invited to the celebration and thoroughly enjoyed the experience and the food.
"The bifanas were good, they had a different sauce to them," math teacher Mr. Pires told me.
Included in the celebration was a speech made by senior club member Jackie Dias. She explained to the teachers who Saint Martin was and why the club was celebrating that day. No surprise, the celebration was a huge success for the club, getting praise from teachers and club members on all of the food.
"It was a nice turnout and we were happy that the teachers that came enjoyed themselves and enjoyed the food and drinks," senior club member Emily Aniceto said about this years São Martinho.