Sophomores and seniors win Powderpuff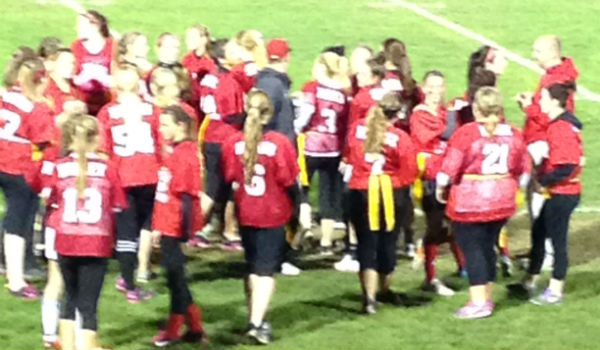 The sophomores and the senior were the big winners at Ludlow High School's annual powderpuff football game on Sept 24.
The sophomores beat the freshman 28-0, while seniors won 20-6 against the juniors. The juniors, however, did win the four-way tug-of-war.
Sophomore Nissa Pereira soared down the field and scored two touchdowns for her team.
"The game was really enjoyable, really fun,." says first time player Pereira. "I enjoyed playing with my best friend Mariana Goncalves. We were quite the duo."
PE teacher Evan Walkwitz coached the sophomores to victory.
"Winning is always fun," says first-time powderpuff coach. "It was more fun to see the girls have fun." He plans on coaching the team next year as well.
The seniors were dominant in their game as well. Meagan McCarthy played phenomenal, scoring two touchdowns.
She was ecstatic that they won for their fourth year in a row. "It's an awesome feeling being able to dominate like this," says McCarthy, "Especially since it's our senior year it means even more to win."
Student coach senior Brett Layman was also excited that the seniors won.
"It felt great to win," says second year coach, "Class of 2015 has one of the most dominant powderpuff squads in the history of LHS."
The juniors are proud of winning the 4 way tug-of-war. The team was coached by teachers Stephanie Gomes and Brian Walsh.
"It was definitely a struggle because we knew that other grades were going to put up a good fight but with the motivational talks from Gomes and Walsh it pushed us to win," says junior Morgan Foye, "We may not have won the game itself but it was rewarding to win the tug of war."