Ludlow C.A.R.E.S. host one-women play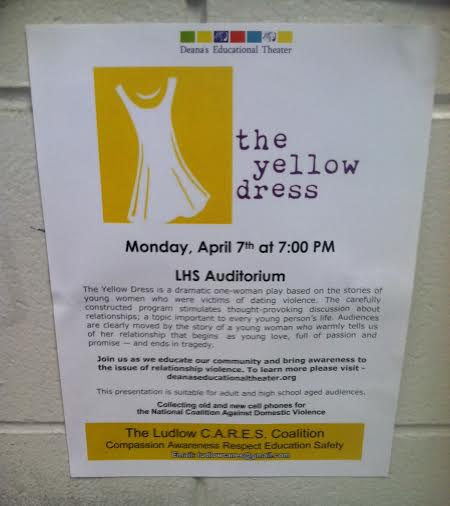 Seniors and juniors of Ludlow High School will be a part of the hour long, one-woman play,  "The Yellow Dress," hosted by The Ludlow C.A.R.E.S. (Compassion Awareness Respect Education Safety) Coalition, on Monday, April 7 in the auditorium.
Seniors will be attending the show by Deana's Educational Theater, during third period from 9:08 am-10:08 and juniors will be attending sixth period.
This production is based on the stories of a young women who were victims of dating violence. This young woman tells the audience of her relationship that began as young love, full of passion and promise-ends in tragedy. "The program is to construct the thought-provoking discussion about relationships."
For those who are not fortunate enough to take part in the production during the school day or want an encore of the production are encouraged to come that same night, Monday, April 4, at 7:00 p.m. However, it is stated that the presentation is for adults and high school aged audiences only.
During the production people are encouraged to donate old and new cell phones for the National Coalition Against Domestic Violence.
More information about "The Yellow Dress" and relationship violence you can visit http://deanaseducationaltheater.org