Student-Athletes awarded All-League certificates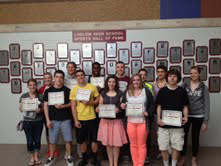 This year 16 LHS students, from freshman to seniors, received an All League certificate of accomplishment for being the best in their league for outstanding performance in the sport they play.
 Being an All League is the equivalent of being the "all star" on your team during the specific sport's season.
In each season, there are All League awards for each sport to be chosen for All League.
"Coaches nominate their athletes, a ballot is then set up and the coaches in the league vote for the player they think is best, which determines the winner," said Brillo.
The winners of All League for winter sports for girls and boys basketball are seniors Ava Adamopoulos, Jeremy Lamontagne, Jordan Smith and sophomore Alyssa Guyon.
The next sport is boys and girls swimming, and the winners are seniors Nick Houle and Kara Baillargeon, juniors Katie Jordan, Hayley Johnson, Nate Turgeon and Nick Potorski, sophomore Kelsey Jordan and freshman Andrea Taylor.
For wrestling, the winners were eighth graders Andrew Sarlan and Brandon Maznik. Hockey winners included senior Aaron McNamara and boys skiing sophomore Kyle Puzzo was the recipient.
"I think it's great to be recognized for all the hard work I have put into the sport. Skiing has always been a passion of mine and the crazy thing is, I'm only a sophomore, I'm just hoping for better results each year of my high school skiing career," said Puzzo.