Ludlow community aims to end Alzheimer's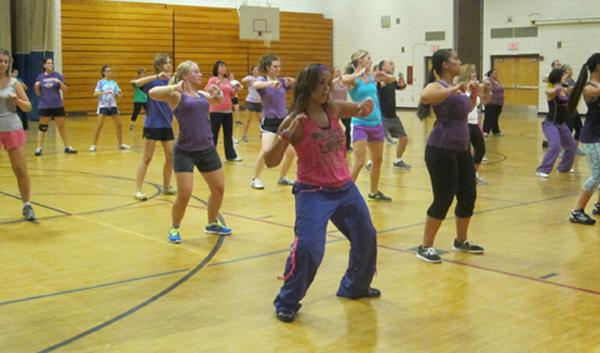 The Alzheimer's Association hosted "Zumba to End Alzheimers," an hour-and-a-half long event Sept. 14 at the Paul R. Baird Middle School gymnasium to raise money for the Alzheimer's Association.
Admission for adults was $10, and $5 for students. A total of 54 participants took part in the Zumbathon, raising $706.00 to benefit the association, according to co-director of the Zumbathon, Maureen Graffum.
"I've done many Zumbathons before, but this one was different because it was so much more fun," said Zumba Instructor Anna Ferris. "There was much more space than usual, so it was better," she said.
Zumba is a type of  dance exercise where participants dance for about an hour straight. It incorporates all different types of dances such as salsa, marimba, belly dancing, and cha-cha.
Those who attended the event said it was for a good cause.
""Every 70 seconds someone is diagnosed with the disease," said Graffum. "It's a struggle everyday [for them]. Some days are harder than others."
The end of the event ended with all instructors, Anna Ferris, Tiffany Mitchell, and Lizz Pearson, getting flowers and gift cards.
Co-directors Lori Leduc and Graffum giving their thanks to everyone who made an effort to come.