Permission granted for students to use personal devices in class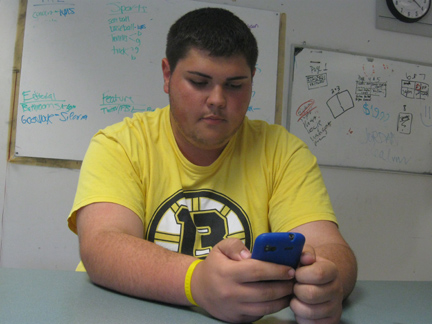 In the not-too-distant future, students at LHS may be able to use a personal device in class to access the Internet via Wi-Fi. But don't get too ahead of yourself; it's not just a free-for-all and there are some restrictions.
The school committee recently approved a "Bring Your Own Device Pilot" program that allows teachers and students to use personal devices, such as laptops, iPads, and smart phones, if it's relevant to the curriculum.
"It's a district goal to help students increase technology skills, and schools don't have the money to fund devices for each student," says Principal Lisa Nemeth. "If a student already has their own device, then they should be able to use it in class."
The website restrictions still apply to the new Bring Your own Device program. Facebook, YouTube, and other sites deemed "inappropriate" are all still blocked.
Students must turn in the permission slips to participate in this program. The Wi-Fi will be password-protected and only students who turn in the slips have access. A teacher's DLT students wouldn't be able to use personal devices because it would not part of a "class" and there would be no permission slips collected.
It's still not definite when wireless access will be available.
"We're waiting for the access points [Wi-Fi units] to be purchased," says Nemeth. "The students need to turn in their permission slips, but hopefully we can start this by May 14."
Students are looking forward to the opportunity.
"Having wireless Internet in classrooms will be beneficial to the students as well as the teachers. Access to our computer labs is limited, and the computers don't always work correctly. If we are allowed to bring in our own devices, students can accomplish a lot more. We can work more efficiently, edit papers and assignments easier than rewriting, and it helps prepare us for college as well as real world work," says junior Ernad Minic.
Teachers also cite numerous benefits to allowing Wi-Fi access.
"Some students may feel pressure when writing an essay or taking a written test. I think there'd be a better quality of work from using technology," says Carol Bardon. "There's helpful websites such as choosemyplate.gov, which is a dietary analysis site I use with my classes."
Another benefit, according to teachers, would be cutting down on paper. If students can access a worksheet online then there's no need to print it out. Also, online textbooks could be an option for some classes, and students say this would be easier than lugging textbooks to class everyday.
"I think it's a great opportunity to show how technology can be used to improve instruction, and the students' devices could be used to benefit their learning," says science teacher Crystal Dufresne. She says her classes will benefit by doing online interactive labs, or even a teacher-to-student video of a lesson.
"This program is just the beginning, but I wanted to be a part of it as it will most likely be adopted by the entire building within the next year or two," says band teacher Kevin McAvoy. He says that instrument tuner apps, metronomes, music composition apps, etc., will all be very helpful in his band classes.
The other teachers participating are Matthew Snow, Barbara Piela, Jennifer Picard, Hollington Lee,  Karolina Kopczynski, Jessica Olmo, Eliza Lacroix, Eric Johnson, and Deborah Iby.