Brehaut receives Grinspoon award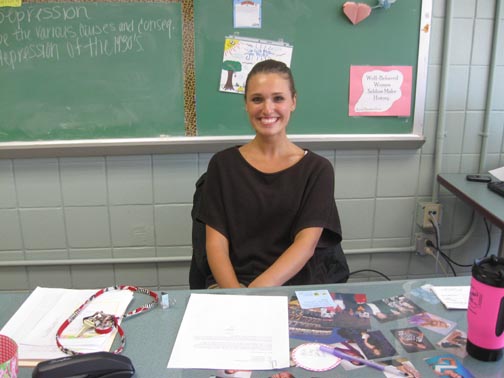 First-year teacher Jessica Brehaut from the history department recently won the Grinspoon Pioneer Valley Excellence in Teaching Award in the "new teacher" category.
The Harold Grinspoon Charitable Foundation awards teachers in the Pioneer Valley by celebrating the success of local teachers. The award encourages new teachers to remain in the teaching field.
Brehaut had found out she was nominated in February by history teacher Brian Bylicki.
"I was so surprised when [they] came to my classroom during second period," said Brehaut, "I was overwhelmed with emotion and kept thinking I love this school and I love my job!"
Principal Lisa Nemeth explained each school submits two teacher's names. This year Ludlow nominated Brehaut for the "new teacher" award, and veteran foreign language teacher Jo-Ann Santos-Pontes in the general category.
Any teacher from any school can be nominated, from elementary to high school. The nominee must be certified by the state of Massachusetts as a teacher, be respected by peers, students, and parents. They must also demonstrate professionalism through excellence in teaching practices, his/her own professional development, good attendance on the job, and more.
The award was presented by Principal Nemeth as well as Acting Superintendent Donna Hogan, Assistant Principal Nancy Kurty, Assistant Principal Mike Halpin.
Brehaut will be attending a celebration event in May 10 at the Log Cabin.
She also received the honor of representing Ludlow High School, credits to take graduate courses (which will be used to begin a second masters degree), a gym member ship to the YMCA and grant which she will be using to purchase a document camera for her classroom.
"I feel so honored and proud to teach here," says Brehaut.