Desforge Challenge raises money for scholarship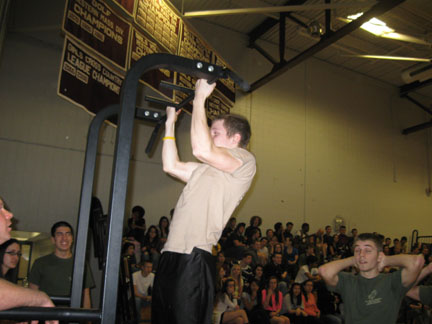 Students, faculty members, parents, and other members of the community participated in the Joshua Desforge Fitness Challenge at the Ludlow High School gymnasium on March 15 to raise money for the Desforges scholarship and a award fund.
The event, which was planned and lead by Tom Cote, called for the 43 participants to complete a series of exercises taken from the training program called P90X. If those in the contest could not keep pace with Cote, they left before the end.
"I did way better than I thought I would have," said Jessica Olmo, biology teacher. "I actually finished."
The event lasted 60 minutes and 19 finished. At the end, the contestants faced-off in a final pull-up challenge. Junior Ryan Wytas finished first with 19 pull-ups.
Showing that the guys aren't the only ones that can pull through, Jennifer Maurer completed six pull ups to win first place for the woman.
Each received a plaque with the memorial on it.
The event raised three times it did last year with, $9,000.
Last year the money went to the SGT. Joshua Desforge memorial which was built outside near the bus loop.
However, this year the money raised is going towards to a scholarship and an award for seniors.
"This year's event was a huge success, last year 24 people entered," says Cote, "this year 43 people entered."
The event ended with 19 contenders out of 43 going the distance.
"The cause is great, I love what they're supporting and I'd come back and do it all again," said SGT. Thomas, a marine who assisted with the event.