Drama Fiefdom presents "Night of One Acts"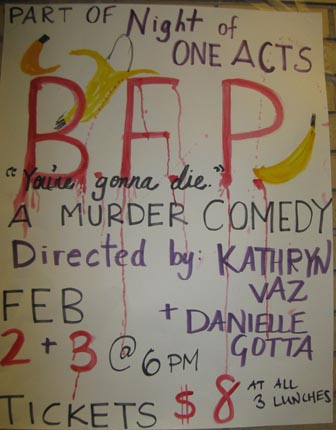 The Drama Fiefdom here at Ludlow High School, will host their annual Night of One Acts plays on Feb. 2 and 3. What makes this night different from other productions that the Drama Club has presented is that they perform more plays but only one act of the play, hence the title "Night of One Acts."
This year One Acts will be performing BFP Redux, Adonais, The Crossing, and Twenty-Four Plays That Suck. Twenty-Four Plays That Suck is written by Richard Selerick and is being directed by senior Phil Aniceto. The play is about a play-write who is working to complete his newest script but writer's block is getting the best of him. And, with the distraction of his girlfriend Sylvia, he just can't seem to get anything decent on paper.
The Crossing, written and directed by junior Kyle Kozaczka, is about a bestselling author who seems to be the perfect person to work with a group of complicated young people, but things are rarely as they appear.
BFP Redux, which is a comedy written by Pete Clark and directed by senior Kathryn Vaz and junior Danielle Gotta, features a drama club who makes an attempt at putting on a production but fails miserably.
Adonais is an original play written by Pete and Tara Clark and is about a young man who is recently deceased and his coming to terms with his own death and how it affects those around him. Adonais will also be the play that the Drama Club will be presenting at the METG festival, which is a drama competition in March.
"Everyone should come and see us perform," said Amanda Banks, "We've been working really hard on each piece, and it'd be great to see people actually come out and support us, plus the parts of the plays we are performing are phenomenal, and I think people will really react to them."
The tickets for One Acts are being sold at all three lunches for $8, and "it's money well spent!" senior Haley Carrol exclaims.