MCAS scores released; LHS at Level 2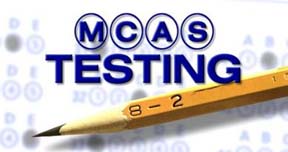 MCAS scores were released to all teachers. A letter was sent out  indicating that LHS was at a level four. However, the letter was incorrect, and LHS is currently at a level two in all areas except in the special education department.
According to the federal law of the No Child Left Behind Act, there are five levels of accountability status. Level one being the best and level five being the worst. The act requires that all students in the United States be proficient in English, Reading and Math, which is based off of individual students scores; proficient scores would be between 240-258 .
Every year, the MCAS scores are checked and schools across the state receive a rating on whether or not their students are improving and making Adequate Yearly Progress (AYP).
According to curriculum coordinator Diana Roy, LHS made AYP in both Math and English. The subgroups which consist of the special education department, ethnic groups, and English language learners did not.
"Only nine percent of the school districts in the state have gotten AYP in all four areas," said Roy.
LHS is currently at a Level two, as are many districts in this state. Level two means that a school is making progress, but not in certain areas.
"[We] are happy with the MCAS math scores," Roy said, "they have made significant progress."
The areas LHS wants to work on are English and the subgroups.
"Where we aren't making progress, [we] want to try and improve that," said Roy.
To improve scores, teachers analyze the MCAS score reports and look at what specific areas students did well and poorly on. They also look at certain groups of students, and how different students in different grade levels do on the MCAS.
By 2014, the No Child Left Behind Act wants 100 percent of students proficient in all the subject groups.
"Our goal is to work with the subgroups and [on] ELA scores," said Roy, "Grade ten's scores have been quite good and our ultimate goal is to be a level one."