"Eye of the Lion" back on the air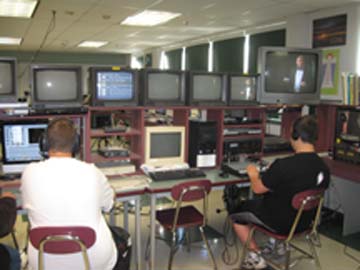 Ludlow High School's "Eye of the Lion" Friday morning news show debuted this year on May 6 after a long  hiatus due to technical problems.
"I am gratified that the show is back on air at the high school," said Mr. James O'Hearn, who heads the TV studio. "The morning show is to celebrate the students and the activities that they participate in."
Valley Communications of Chicopee has been doing the repairs to the cable system in the high school. They have been back and fourth since September trying to decipher the problems in the head-end wire room of the school. According to O'Hearn, the company had a great deal of trouble with this room, as all of the wires from everything in the building, including networking and LCTV wiring, end there.
The problem for the company was trying to find the cable wiring for the TV studio because nothing was labeled, O'Hearn said. When Valley Communications found the problems, they took the equipment and brought it back to their labs for testing to see if there was any hope for repair of the equipment.
" The most important piece of equipment, the demodulator, was able to be salvaged," said O'Hearn. "It cost $300 to fix.  If it needed to be replaced, the cost may have been too much to even think about."
Although Valley Communications was able to fix the demodulator, there is still more to be done. At the moment, the channel that the TV studio uses in the mornings is an empty channel. It does not allow the school to access a cable channel. The plan is that once the repair project is done, the school will be able to access more than one channel.
"My hope is that in the future all teachers will be able to take a poll to decide on which channels they will want to be able to access in their rooms to aid their teaching," said  O'Hearn