Favorite book for Halloween season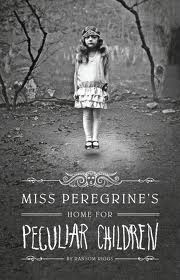 During the Halloween time, my favorite thing to do is read an abundant amount of horror novels, and my all-time favorite is Miss Peregrine's Home for Peculiar Children by Ransom Riggs. This book is about a boy named Jacob who goes on a rather peculiar journey.
In the beginning of this story Jacob's grandfather is murdered by, according to Jacob, a made up creature. But when he sorts through his grandfather's things, he realizes that that creature might actually be real. He linked all of his grandfather's info that he found back to Wales, where Jacob travels with his father.
When he first arrives at Wales he finds this old abandoned house where and meets a beautiful girl named Emma. Things got off to a rough start when they first meet, but it all gets sorted out. Then Emma takes Jacob back in time to 1940 to meet Miss. Peregrine and all of the other "peculiar children."
When he gets there he is informed by Miss.Peregrine that Jacob's grandfather used to live in the house with all of the other "peculiars," but then moves on to live a life outside of peculiarity. Jacob then makes friends with the other children. Peculiar children are children who have unique and weird traits, like Millard who is invisible, or Emma who can control fire, or Olive who is light as air and has to wear heavy shoes so she doesn't float away.
Jacob then learns he is peculiar himself, and that his peculiar trait soon comes in handy when danger arrives at the peculiar children's house. Not to mention that Jacob's dad thinks he is going insane when his son is trying to explain all of this to him.
The rest of the book is for you to read, and I highly recommend you do. When I was reading this story I could barely put it down because one fascinating thing happened after the other, with a bunch of plot twists, cliffhangers and a lot of mystery. So, if you are looking for a good book to read, Miss.Peregrine's Home for Peculiar Children is the way to go.