Many students and staff members often question: "Why do so many students join the Ludlow Track & Field Team?" The simple answer to this question is because of the famous Mr. Brian Walsh.
Most athletic teams at Ludlow High School and the majority of all other schools have limits on how many athletes can participate in that specific sport, which can lead to heartbreaking cuts and smaller teams overall. On the other hand, track and field is the only sport at Ludlow High School (along with cross country) that doesn't turn away any interested athletes. Because of the lack of cuts that need to be made for track and field, Brian Walsh can spend his passing periods in the hallway "harassing" students, as some would say, to join the track team. 
Now, I am sure that most of us here at Ludlow High School have a pretty good idea of who Brian Walsh is: a running maniac, but who is really besides the fact that he loves running and wants to share his love for the sport with his students?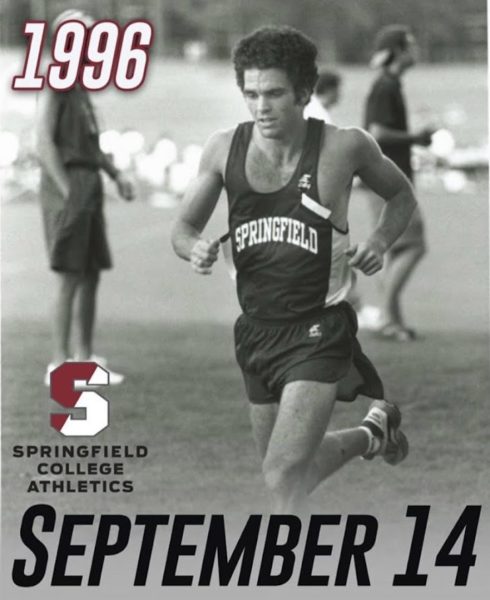 Who is Brian Walsh?
Walsh was born in Holyoke, Massachusetts and grew up in Southwick, Massachusetts. He attended Southwick High School and was a three sport athlete participating in: soccer, basketball, and of course track and field. After high school he furthered his education at Springfield College, earning an Undergraduate degree in Sports Biology and a Graduate degree in Exercise Physiology and Biomechanics. 
While in college, Walsh was a three sport NCAA Division III athlete where he was an outstanding athlete and among the top runners on the Pride's men's cross country and indoor/outdoor track teams. During his time on the Springfield College cross country team, he participated in three NCAA Division III New England Regional Championships and was a two-time Academic All-District selection. As previously mentioned, Walsh also was a standout athlete on the indoor and outdoor track teams at Springfield College. He was ranked one of the top middle-distance runners in the New England region as a collegian. Walsh set a Springfield freshman record in the outdoor 800-meter run with a time of 1:53.8. He was also named the Eastern Championship Rookie of the Year. Walsh then later also held the varsity record at Springfield College with a time of 1:52.8.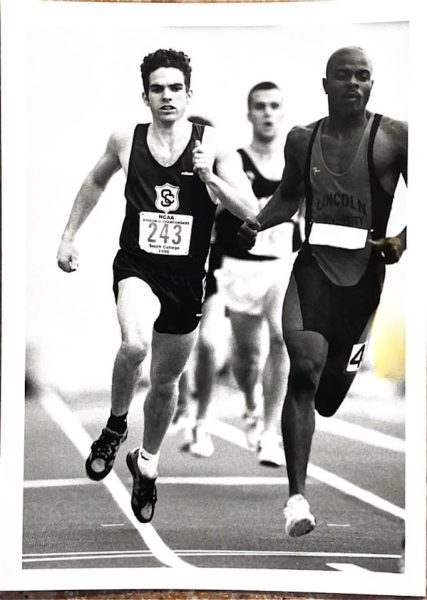 After college, Walsh moved onto become a grad assistant at Springfield College, where he taught at the physics labs for two years. After these short two years, Walsh started teaching physics here, at Ludlow High School, in 2001 and has been teaching here ever since. Along with becoming a physics teacher at Ludlow High, Walsh also took up the large role of becoming the head coach of the Ludlow's Girls Track and Field team and has held this title for 22 years now. Walsh's coaching experience does not only include being the head coach of girls track and field at Ludlow High, but he was also the Cross-Country Coach at Western New England University for an impressive 22 seasons. Walsh also earned the prestigious title of GNAC (Great Northeast Athletic Conference) Coach of the Year in 2002 and 2003. He recently just ended his coaching career at WNE to take over as the head coach of Ludlow Girl's Cross-Country, taking the position from his wife, Amy Walsh, and these two have been married since 2002 and have been coaching side by side ever since. To even further his coaching experience, Walsh has also played a large role in youth sports here in Ludlow as a youth soccer, basketball, and track & field coach for the past ten years. Brian and Amy Walsh also have two children together: Taylor, a LHS alumni, and Logan, a sophomore, and they are both extremely successful athletes following in their parent's footsteps. 
Walsh as a Coach
As previously mentioned, Walsh is no stranger to coaching track and field. Throughout the 22 years Walsh has been coaching at Ludlow High School, he has only continued to help grow and develop the program. 
Walsh has seen the size and dynamic of the team change during his time as head coach and when asked: "In your position as head coach, how have you seen the size and dynamic of the team change over the years?" Walsh explained how "we originally had about 20 girls on the team and we quickly grew in my first five years of coaching to having over 90 girls on the team." He also added that: "In the past four years our numbers have dropped to around 40 athletes." Although the number of athletes on the team has dropped in the past four years, Walsh never fails to try and recruit students for the track team. It seems like Walsh tries to get everyone involved in the track team and that is exactly what he does. Walsh's response to the question "When you approach students in the hallway what makes them a good candidate for the track team?"was "The great thing about track and field is that it is good for everyone." Walsh explains how there are many different reasons why he encourages students to join and how he just wants "kids to be part of something." Walsh's main goal is to always develop athletes and he believes he can do this by targeting athletes from other sports because research shows that soccer, football, and basketball players are much more successful athletes when they are involved in track and field.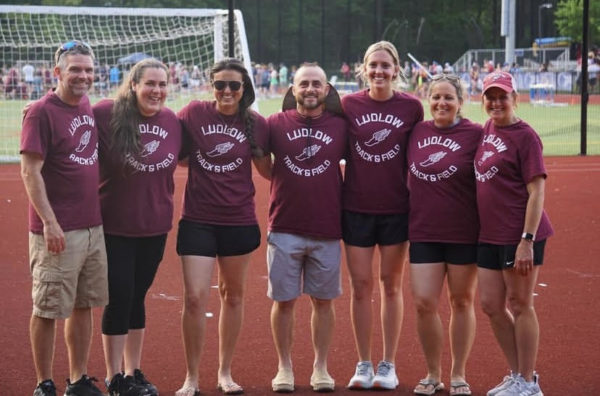 Walsh is clearly a very dedicated coach to both athletes and the program itself. Walsh adds that he "loves the fact that we represent Ludlow High School so well" when other coaches make comments about the size and discipline of our team. He also tells other coaches that "we have an excellent group of hard-working athletes." Walsh's love for track and field has made him a very dedicated coach for the past twenty-two years, and the performance of his athletes and the program has shown this dedication and hard work from Walsh. 
Praise for Walsh
All of us know Brian Walsh as an exciting and fun physics teacher with a strong passion for track and field, but very few of us give him the recognition and praise he truly deserves. So, I asked a few student-athletes to share a few kind words.
Sophomore, Lucas Franco, who just recently crushed the indoor 2 mile this past winter with a time of 10:35 added that "He's always finding ways to help us improve and reach our full potential. He's very dedicated and involved with the team, which is all we can ask for from a coach." 
Recently graduated, Carlie Schwartz, who also just broke the outdoor 400m record with a time of 59.1 seconds, also agreed that Walsh is a very "dedicated coach, who loves to see his athletes improve and succeed."
As a whole from Ludlow athletes, I would like to thank Mr. Walsh for all that he does for the athletic programs at Ludlow High School and let him know that his dedication and passion for the sport does not go unnoticed.