Breaking Dawn continues the Twilight series with great success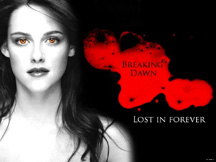 Note: Contains spoilers
The breakout Twilight series released the first part of Breaking Dawn on Friday Nov. 18.
As always, the Twilight series movie was hyped up, because the movies have always been phenomenal.
With the portrayal of a love between a vampire (Edward Cullen) and a human (Bella Swan), who can resist? Especially when you throw in a shirtless werewolf (Jacob Black) who makes the love affair a love triangle.
Twilight, New Moon, and Eclipse were amazing movies. They all portrayed just how far Edward would go to keep Bella safe, between pushing Bella out of the way of a van before it hit her, sucking venom out of her body to save her from a vampire bite, protecting her from the Volturi (coven of powerful vampires in Italy), and making a truce with the werewolves to keep an army of newborns away from her, Edward has proven his love for Bella multiple times.
Breaking Dawn, Part 1 caused the typical Twilight fever and raked in $139.5 million, just over the weekend.
It all began with Bella finally accepting Edward's proposal. The opening scene is Bella attempting to walk around in high heels and almost twisting an ankle (we all know Bella is really clumsy). Then you see the Cullen's turning their backyard into a fairytale wedding scene.
Of course the night before the wedding Bella has a nightmare. She dreams that at the wedding Edward kills everyone and there's blood all down the aisle and the alter.
The next day Bella, becomes Mrs. Cullen. Her parents give her a blue sapphire hair piece that they tell her she can pass on to her daughter (little do they know that their daughter is going to be turned into a vampire and won't be able to have a baby).
Edward and Bella have an intimate kiss after the pastor announces them husband and wife. Then Jacob makes a special appearance and dances with Bella in the woods. It's all fine and dandy until Bella tells Jacob that she's going to consummate the marriage with Edward on their honeymoon. Jacob loses it and says Edward is going to hurt her and morphs into a wolf and runs off into the darkness.
Edward takes Bella to a private island off of Rio for their honeymoon. It starts with skinny dipping in the ocean under the moon and turns into Bella losing her virginity. Bella wakes up and looks like she has just had the best night of her life; all around her feathers are floating. As the view spreads it reveals a broken bed, ripped curtains, sheets and pillows (apparently it was an intense night).
The honeymoon is perfect until Bella realizes she's late on her period. She looks at her stomach in the mirror and she knows she's pregnant.
But, Bella is not pregnant with just your ordinary baby, she's having a vampire's baby.
The baby is eating Bella from the inside out. Bella looks like death; the bags under her eyes are deep into her face, her skin is translucent, and her stomach is huge and purple.
Bella will not let Dr. Cullen get rid of the baby. Bella thinks she's going to make it and save her baby boy, too. But Edward is ripped, he even asks Jacob to convince Bella to get rid of the monster.
When the wolves find out that Bella is pregnant, they tell Jacob that they are going to kill it, and if that means killing Bella too, then they will.
Then the unimaginable happens–the baby is born. But, it's not like your regular child birth. Edward has to eat the baby out, all you can hear is screaming from Bella and the gnawing of Edward's teeth as he sinks them into Bella's stomach. Then comes out a baby girl, Reneesme. As Bella holds her baby girl, her heart begins to stop.
Edward bites Bella all over her body to get the venom to turn her into a vampire and save her life. But, he gets nothing. Bella lies there, motionless.
While Bella is laying there lifeless, the wolves and Cullen's battle it out to protect Reneesme.  While the fight is going on, Jacob goes to kill Rennesme, but as he looks into her eyes he imprints on her. He is no longer held to the ground by gravity but by her, he loves her and only her and will do anything to keep her safe.
The wolves have the upper hand in the fight, but because Jacob imprinted on Reneesme, the wolves cannot harm her. It is their most sacred law that they cannot harm anyone that they imprint on.
Three days pass, and Bella is still dead. But as the movie comes to an end, Bella's hair turns golden brown, her skin becomes shiny and like little beads of crystal, her lips are pink and then she opens her eyes to reveal that they are bright, bold, and the color of red blood…
Is Bella alive? Has she finally become a vampire?
Looks like we will have to wait until Breaking Dawn, Part 2 comes out, so we can see the intense love story come to an end.