Once Upon A Time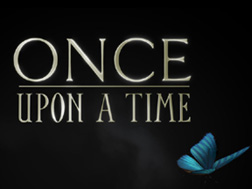 Once Upon A Time is the new enchanting and charming series on ABC at 8 p.m. on Sunday that puts fairytale characters in the modern town world.
It all began at Snow White and Prince Charming's wedding, when the Evil Queen put the dark curse on all happy endings.
The only solution to the dark curse, according to Rumpelstiltskin, is Snow White and Prince Charming's unborn baby, Emma. He said that when Emma turns 28 years old, she will come back and have the final battle with the evil queen.
To save their unborn baby, Snow and Charming have Geppeto and Pinocchio build a tree that one person can go into.
The day the dark curse hits happy endings is the day that Emma is born. Charming saves Emma by putting her into the tree but after he is stabbed by the evil queens men and killed. When the guards of the queen open the tree Emma is gone…
Fast forward 28 years, and you have the modern town of Storybrooke, Maine. Each and every person living in the town is a fairytale character trapped in the modern world with no memory of their past lives.
Regina, the mayor of Storybrooke, is none other than the evil queen herself. She is living happily ever after while the others are living in a hazy fog. Mr. Gold (Rumpelstiltskin) is the owner of the town and is the one who got Regina her adopted son, Henry. Mr. Gold, using his clever manner, got the baby from none other than Emma Swan, who gave him up for adoption. The twist is that Mary Margaret (Snow White) is the elementary teacher for Henry, when she is his grandmother, and John Doe (Prince Charming) is an unknown and unclaimed coma victim who is sitting in the hospital like a vegetable.
Emma has no idea who her son is and where he is from until on the night of her 28th birthday when he shows up at her doorstep. He tries to tell Emma that she is in the fairytale book that Mary gave him. That she is the daughter of Snow White and Prince Charming and her job is to save the long lost characters from their misery.
Emma is forced to enter the dazed New England town of Storybrooke and soon sees that Henry's story may just make sense.
Regina tries to push Emma out of the town by having her arrested and kicking her out of Granny's bed and breakfast, but Emma isn't giving up. She's determined to see what's really going on in this town, whether it's just her son's imagination or not.
Is Storybrooke really full of all the fairytale characters that had their happily every afters taken away? Or is it just a quiet and memory-forgotten town full of people who have no idea what happened in the past or what to expect in the future?
Watch Once Upon A Time on ABC to see if these fairytale characters will get their happy endings back or if evil will prevail and keep these characters away from their one true loves and happily ever afters.