Jack Favata, Sophomore Presidential Candidate
Jack is running for a second term as president.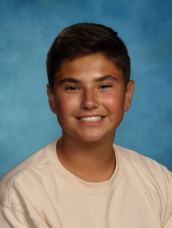 Incoming sophomores will once again have to vote for an executive board that will represent their class well. The presidency is the most important executive board position and requires great leadership skills. With a job this important, it is crucial to elect someone that will lead their class to a successful future. Sophomore presidential candidate Jack Favata believes that he is ready for the job.  
Jack Favata is running for a second term as president of his class. He is running for president because he enjoyed working with the executive board and ensuring that the freshman class had a good first year at Ludlow High School. When asked why he was running, Jack enthusiastically responded that "This past year I've collaborated with others and been a leader for our class and I want to continue in the role next year making our year one for the record books!"
Currently, Jack is working on organizing a fundraiser with Midwoods Dairy Barn in order to raise money for a field trip to Mystic Aquarium. Additionally, he helped his class to organize a successful online apparel store that incorporates student artwork into their designs. 
Next year, Jack aims to promote a positive social environment in the school. He wants to utilize Google forms and Instagram polls in order to get the class's opinion on issues before taking action and create more positive outcomes. In the future, he wants to build on the class apparel store by offering multiple designs.
On Tuesday, March 29th, Jack made a speech to his class regarding his candidacy for president during a class assembly. A copy of his speech can be found below:
https://docs.google.com/document/d/1Nmi_yN77OvaibP3KfYc5xVdArhp7VeyH4tL3ZQmqQoc/edit?usp=drivesdk 
Voting takes place in the auditorium during all three lunches on Wednesday, March 30th.