LHS Fashion: Sense of Style & Self
Take a deep dive into what the students are wearing.
It has been quite the momentous month at Ludlow High School. After a three-month remote hiatus, students are finally permitted to return to learning in person! However, one main concern at Ludlow High is still prominent – what to wear? 
After months being remote, Ludlow students are no strangers to hopping out of bed five minutes before class starts, and participating in their sweatpants and sweatshirts. Don't worry, you're not alone.  
Now that many students have returned to hybrid learning, or "Cohort X," the student's unique style is finally blessing the building once again.
Understandably, some students do not want to give up the hoodie and leggings lifestyle when they come into school. In a recent survey, only 17.8% of students say that they tend to dress cute when they attend school in person. In addition, many describe that they're style consists of some combination of the classic hoodie/jogger combo. 
On the contrary, LHS junior, Aislynn Fontaine's high heels often light up the drab school hallways. "It makes me feel more put together," Fontaine commented. When you look good, you feel good. 
One trend that has recently swarmed young adult's wardrobe is baggy jeans. When asked to describe their style, many wrote that baggy jeans played a big role. They are comfy and cute, and pay a tasteful homage to the 80's classic style. 
When students are looking for outfit inspiration or even "inspo" they go to two main places to look. TikTok (a video sharing app), and Pinterest are two great places. There are many style influencers on Tik Tok, such as "content-creators." Each and every influencer's fashion is unique, and it's a great place to pick and choose what you like, and may want to include in your closet. 
Pinterest is a classic staple. Search up keywords like "cottage core" or "grunge style," and hundreds of inspiration photos are at your fingertips. It's truly a great way to find your favorite style aesthetic.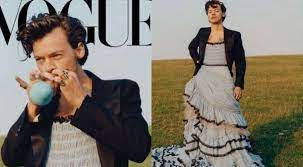 As for people who influence student's style, there are again two main outliers: Harry Styles, and Emma Chamberlain. Harry Styles is known for challenging societal norms and wearing a masculine style with a sprinkle of femininity. He can even be spotted wearing an iconic Gucci gown on the cover of the December 2020 edition of Vogue. Junior Collin Doyle describes the way Harry Styles mixes masculine with feminine as "awe-inspiring."
Emma Chamberlain is a quirky Youtuber among our era. While delivering laughs she does so dressed in a semi-preppy style with a twist. You can find her living her life, doing what she wants, and looking cute no matter what.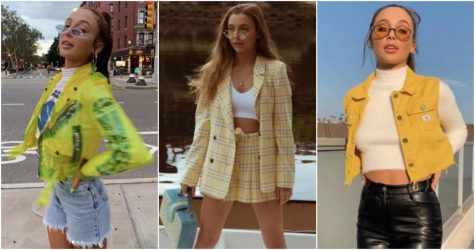 One Ludlow High alum had even said that Mr. Woodman is a style inspiration to them.
The student body also looks up to other student's sense of style. 
Aaron Picard is in the top of his class, and is working towards becoming a biomedical engineer. He has a packed schedule from hockey to AP chemistry homework, but still likes to look good while doing it all. In fact he states "I get my inspiration from myself."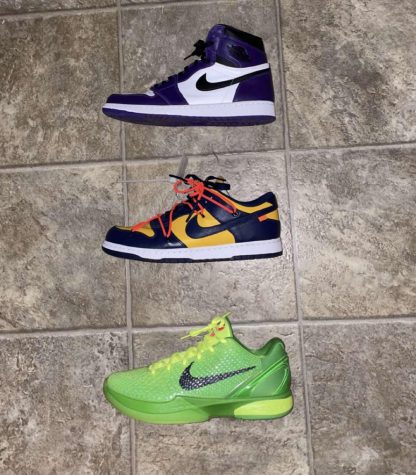 While making an outfit, he says "I like to base my outfits on one piece," and go from there.
In fact, his most common focal piece in an outfit is his shoes. "I like collecting shoes," he says "so I buy shoes I like and use them as the focal point of my outfits." Shoes, or sneakers in particular, is a great way for guys to get involved with their style.
Mackenzie Murphy, an LHS junior is known for her eclectic style. In fact, she describes her style like "an old cat statue in a grandparent's house," that is "chipping away a little bit." Many students admire her for this eccentric way of dressing. Even history teacher Mr. Vamosy loves her orange high top converse, expressing that he once had a beloved pair himself in high school. 
When describing her style herself she states that it is "unique, fun, and colorful," and her most favorite item in her wardrobe is her black mom jeans. She acquires her clothing mostly at thrift stores, the Salvation Army is her favorite. 
Her advice for those looking to explore their own sense of style is to "stop caring what everyone thinks." She exclaims that "once you get out of your head, it's so much easier to live your life." She informs young people to ask themselves, "why do I care about other people and how they view me?" She encourages "be who you want to be! Wear what you want to wear! Be yourself, love yourself." 
A student's outfit of the day could make or break how that day goes. A student's sense of style is held close to their heart. Self expression is every student's direct line to their own sense of self.