Boys Soccer in State Semis Causes Excitement Around the School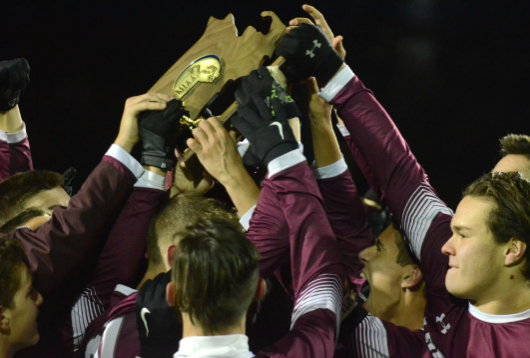 If you are a member of Ludlow High School, odds are pretty good that you've been affected in some way by the incredible performance of the Boys Soccer team this season. Teachers postponing homework, quizzes, tests as well as the overall optimism floating around the school.
For those of you who have been living under a rock, the Ludlow Boys have made it to States for the first time since 2011. This was boys soccer's 26th Western Mass in Ludlow history. title. In the Western Mass finals against Longmeadow, Mike Tuck and Cam Blackburn helped Ludlow score a goal in the final minutes of the first half.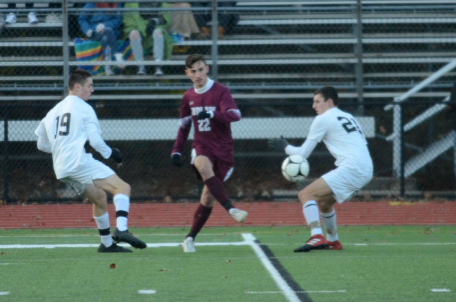 The second half came down to the defense. Arda Ibas protected his team with pride, stopping free kicks and corners in net. Despite some messy plays on Longmeadow's behalf, Ludlow managed to get a clean victory with emotional displays on and off the field after the game. Players and fans alike so proud that the team was able to move forth on their quest for states.
As a member of the fan section, I speak for everyone when I say the game was electric. Despite the frigid temperatures, the fan section was HOT. With cheers for our team, against the other, and even a shout out to Mr. Martin, the fan section held as much, if not more, pride for their team as the team itself. With what looked like triple the fan section of Longmeadow, the fans had an elation that only grew exponentially as the game went on. Somehow, the colder the temperature dipped, the more heated we got.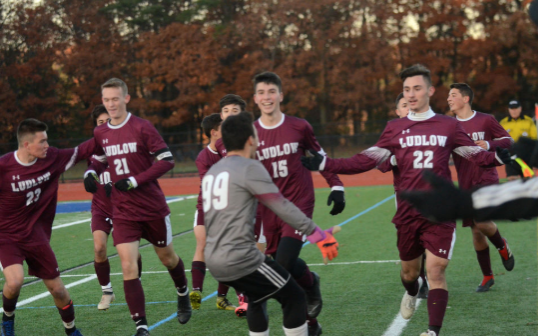 With the boys going to Marlborough to play Wachusett in the state semifinals, the furor in the school was contagious. Some students even found it hilarious how much the school venerated the soccer team, shocked by how much power it had over the teachers.
The fan bus leaves tonight at 5:30, although students are expected to arrive at 5:15. Despite the subfreezing temperature, more than one bus is needed to take all the excited fans. Fans and players alike are hopeful that the boys soccer team continues with their streak to the State finals.
Good luck boys! Go lions!