Baseball coach has roots in Ludlow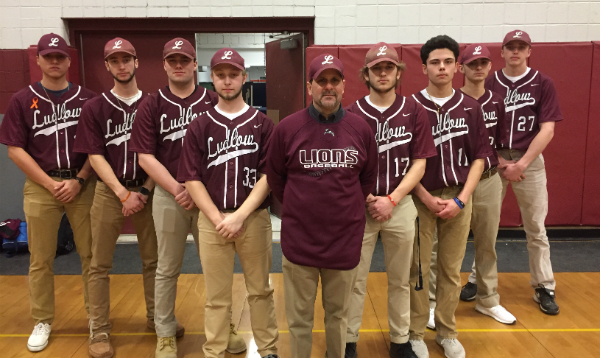 "I remember playing [baseball] in the backyard with my father and my brother and the neighborhood kids," says Ludlow High School's history teacher and Varsity baseball coach, Martin "Marty" Fanning.
Fanning grew up in Ludlow and began playing baseball at the age of three.
"Baseball was a big thing with the kids in my neighborhood," says Fanning, explaining how he first became a baseball aficionado.
Due to his father's Bronx, New York, roots, Fanning was initially a Yankees fan, but converted to Red Sox Nation in his mid-twenties.
"My favorite player was Dave Winfield and I thought that the Yankees owner didn't treat him properly. While that was happening, the Red Sox went on an amazing streak and I got caught up in that," says Fanning.
Fanning played baseball for Ludlow High School before graduating in 1979. He attended the University of Massachusetts in Amherst where he graduated from their undergraduate program in 1984.
After his graduation from UMass, Fanning taught history and coached baseball for Lee High School, in Berkshire Country, but he eventually returned to Ludlow's baseball program to assist varsity coaches Lou Casagrande and Brian Bylicki. He also coached the freshman and JV teams. Fanning became Ludlow's varsity head coach in 2004.
Fanning is currently in his 30th year of teaching (25th at Ludlow High School) and his 27th year coaching baseball (14th of coaching Ludlow Varsity baseball).
As a baseball coach, Fanning has a fascination with baseball bats, particularly fungo bats.
Fungo bats are special, lightweight bats used during practice to hit balls out to fielders. Fanning considers himself an expert in the field of fungo bats.
"I do consider myself a master fungo hitter and have had quite a collection of fungo bats over the years," says Fanning.
Fanning can often be seen carrying a maroon fungo bat around his classroom. The bat was a mixed project between a student in woodshop class and Mr. Smith's art class.
This spring, Ludlow baseball is off to a winning start. Many of this year's baseball players are returners and Fanning says they look strong. "We have prepared for this season for a while," he said.
There are eight seniors on the team this year, an increase from the three on the team last year. The senior squad consists of pitchers Jake Pariseau and Jason Webb, catcher Chris Webster, first baseman Zack Chipman, third baseman Nick Devine, right fielder Chas Zawacki, and starters Tod Holloway and Justin DeBarge.
"I have been with [the seniors]— most of them— for four years. That doesn't happen very often," says Fanning.
Webster and Chipman both plan to play in college, Webster for Endicott College in Beverly, MA, and Chipman for Cuesta College in San Luis Obispo, CA.
Webster, who started playing the game at the age of five, has been playing for Fanning since his freshman year.
According to Webster, Fanning differs from other coaches because of how he interacts with his players. He also gives his players a voice when it comes to team decisions.
Webster committed to playing for Endicott's baseball team in October of this year.
"Fanning helped teach me how to focus on my personal baseball goals, while also focusing on the team's goals," says Webster..
Last year, the varsity team ended the season going 5-8. This year, however, Fanning has plans to improve the team's record.
Referring to last season, Fanning says, "we did underachieve a bit, but [the team was] young last year, now they are veterans and understand what it takes to win."
The team prepared for their difficult season by weight-lifting and throwing in pre-season training.
"The biggest game is always the next one," says Fanning. "Baseball is too hard a game to look ahead. I only look at the schedule one week at a time."
The team's season opener was on April 9 at Whitney Park where they beat Sci-Tech 6 – 0.
"Ludlow High Baseball is special," Fanning says. "We have to learn resilience. Difficult weather, not the greatest facilities, but you learn right away who the players are that really love the game. We all know that 3-5 at Whitney Park is the best time of the day."
Fanning and the underclassmen on the team will get a chance to celebrate the seniors on the team on May 29 at Whitney Park at 4. They invite everyone to come see them play against Putnam.