English teacher encourages students in the classroom and beyond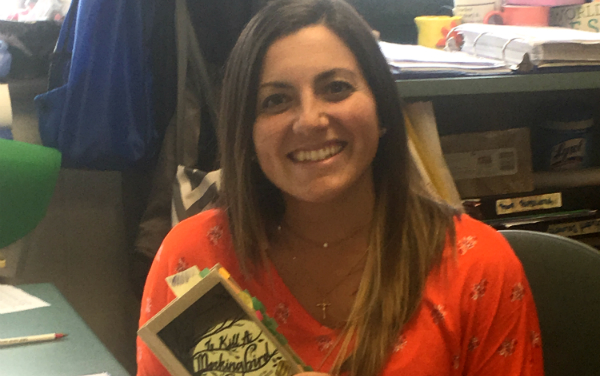 When English teacher Stephanie Fernandes reads out loud to her class, it's like witnessing a dramatic monologue: she gives a unique voice to each character and is able to capture their personalities through her tone and mannerisms.
Alex Vice, a freshman at Ludlow High School, says, "When Mrs. Fernandes uses voices for different characters you can tell that she truly is into the book and loves the characters."
Mrs. Fernandes grew up in Ludlow, graduated from Ludlow High School in 2008, and then attended Emmanuel College in Boston. After graduating college she returned to Ludlow and now teaches freshmen and juniors. Despite the natural talent displayed in the classroom, she didn't always want to teach.
"When I went to college, I originally did not go for teaching, but found myself pulled to teaching anyway," she said, adding that her godmother, also a teacher in Ludlow, influenced her decision to pursue a career in education. Additionally, Mrs. Fernandes' mother told her that when she was young she used to play school.
Mrs. Fernandes style of teaching is to make personal connections with her students.
"She is there for me always," said senior Tyler Laviolette, who can frequently be found visiting with Fernandes.
Mrs. Fernandes started teaching in 2011. Her first year teaching was at Bellamy Middle School in Chicopee. Soon after, she began teaching in Ludlow in 2012.
Her favorite part of teaching is connecting with her students. "I love when students start to understand complex material. I also love teaching To Kill a Mockingbird and seeing how my students develop an understanding of the classic novel."
Her least favorite part of teaching is when she has to discipline her students. "I try to maintain a level of respect between myself and my students so I don't have to worry about disciplining them as often."
Mrs. Krysten Langone, who teachers special education, has been teaching for five years and co-teaching with Mrs. Fernandes for three years. "The thing that I like most about her is how passionate she is about teaching and how much she cares about the students," she said.
Students agree. "She is very helpful and very funny when it comes to reading To Kill A Mockingbird," said freshman Landon Norris.
Outside of teaching, the petite brunette coaches cross country and track. For track she coaches pole vault and says, "Everyone should run. Running is something that almost anyone can be good at. Especially in track, you can run different events and distances for athletes to excel at."
If athletes are willing to work hard, they can notice huge improvements in their abilities and fitness from the beginning to the end of the season. Fernandes saw huge improvements when she was in high school and it greatly impacted her confidence, as she has seen it from others.
When Mrs. Fernandes was a student here at Ludlow High School she ran cross country and distance for track. Brian Walsh, who teaches science at Ludlow High, was also her track coach.
"She was a hard worker and someone I could count on," Walsh said.
Besides running,  Fernandes was a great student. Her favorite class was history.
Mrs. Fernandes had a lot of great teachers when she was in high school (none of whom she will  designate her "favorite" at risk of offending all her other teachers).
"I enjoyed that history is like a true story with real lives, so I guess the part of history that was my favorite was the part most connected to English anyway," she said.
Now that Mrs. Fernandes is a coach, she works alongside Mr. Walsh. She is known for caring for all the athletes with whom she works. She loves watching the athletes improvements as well.
Freshman Brianna Charow stated, "She makes sure you are working as hard as you possibly can without hurting yourself."
Athletes are not surprised when their coach runs alongside them while training.
"She encourages them to keep trying and runs with them during practice," said senior Brandon Martins. "She's a great coach and always brings positive energy to practices and meets."
But Fernandes isn't all about teaching and coaching. She also has a personal life.
Her favorite weekend activity is watching Hallmark movies.  Mrs. Fernandes also spends a lot of time with her family on the weekends, particularly her niece and nephew.
Mrs. Fernandes is very close with all of her aunts and cousins, "I'm super excited to be making the family bigger with my new baby."
She's a little upset that it will interrupt the school year, but she is excited that she will be able to come back at the end of the year to see everyone's progress without her.