How To Throw a Superbowl Party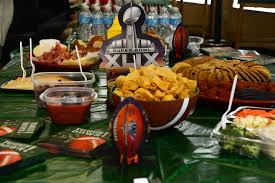 Whether you are a Patriots fan or a Falcons fan, there is a good chance you will be watching the Super Bowl. The Super Bowl is one of the most viewed events of the year. With this event approaching quickly it is time to start the preparations to throw a rocking Super Bowl party. Here are some of the most important things to make your party the best around.
Rearrange your furniture
Everyone wants to be able to see the t.v. at all times so they don't miss any action. However depending on your furniture setup, there might be areas where guests will not be able to see. To avoid this problem, move around the furniture in your living space to accommodate all of your guests. Also make sure you have enough seating for all of your guests because everyone wants to have a seat of their own. Try moving big, bulky furniture to the side and filling the space with plenty of smaller chairs arranged in close relation to each other.
Drinks
Nobody wants to be thirsty during the game, and nobody wants to  get up during the game to get a refill. Try finding coolers or tubs big enough to fit plenty of ice and drinks. Each cooler can have its own type of drink which makes it easier for guests to find the drink they're looking for.
To avoid over buying, ask your guests what types of beverages they enjoy. Think about who will be coming so you can have something for everyone. For example if young children will be attending it is best to purchase some sort of juice to keep them happy.
Another option would be BYOB, or Bring Your Own Beverage. Tell your guests to bring whatever they want to drink, and have a cooler for each family or person. It will allow everyone to be happy and will cost you a lot less.
Food
One of the most important factors of a good party is the  food. One option is a potluck, where everyone brings a dish to share. If not, buy a range of snacks that everyone can enjoy. Football food is easy, simpl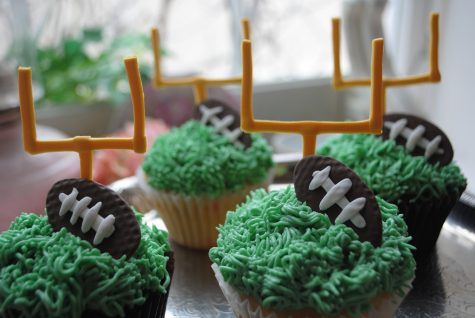 e food that does not take much effort. Chips, dips, or casseroles are the easiest ways to go for the big day. Grilling is a good option as well because everyone likes hamburgers or hotdogs. Make sure you have enough to feed everyone, but there is no need to make every dish out there. If there is a lot of young children attending try making lots of finger foods such as chicken nuggets or mozzarella sticks. For the adults it is good to create a variety such as quesadillas, pulled pork or, my personal favorite, chili.
Decorations
Decorating is a big part of a good party. Show support for your team by decorating with their colors. Streamers, balloons and banners will set the vibe for the night. If you are feeling extra creative, you can make some super cool decorations. If you are lacking inspiration, use footballs, field goals, or flags to fancy up your space. My family usually stocks up in everything red, white and blue for the Patriots. Our basement will include anything from hanging footballs to a life size field goal.
Throwing a party can be a lot of work, but as long as both you and your guests are having a good time, that is all that matters.