French Club visits Museum of Fine Arts in Boston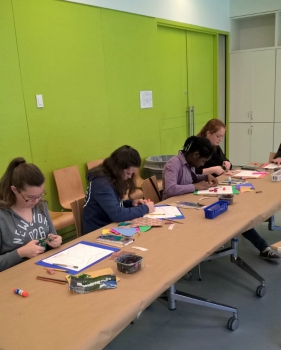 The French club visited the Museum of Fine Arts in Boston on Monday May 9.
The group went on a one hour guided tour that took them through three centuries of French art. These works were mainly from the 17th, 18th and 19th centuries, including works from Renoir and Van Gogh.
"My favorite artwork was from Renoir," said French Club advisor Tammy Cook, "They are even more striking in person."
After the tour the group got to work on some art of their own. An employee of the museum guided the students in a cubist art workshop where students created their own pieces.
Following the workshop students ate lunch and visited the gift shop before heading back to LHS.
"The tour of the different French art periods was my favorite part of the trip," said junior Kyle Beaudette," Our guide was very informative and gave us specific information on specific time periods as well as broader traits of French art as a whole."