History teacher awarded National Citizenship Education Teacher Post Recognition Award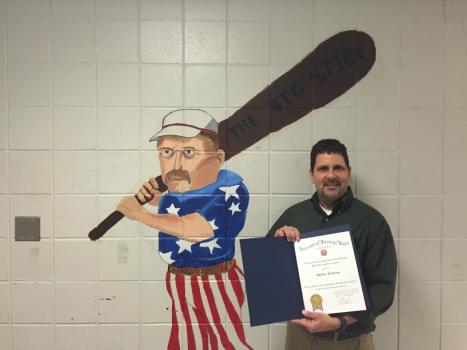 LHS history teacher Martin Fanning was awarded the National Citizenship Education Teacher Post Recognition Award by the Veterans of Foreign Wars of the United States at the Hampden District 7's award ceremony on Mar. 8 at the Exit 7 Theater in Ludlow.
Fanning was nominated by Eric Segundo, the veteran's agent at the Ludlow Veterans office, and Rick Askew, a veteran, resident of Ludlow.
He was honored for his leadership in sending LHS boys and girls to the Massachusetts Boys and Girls State leadership conference. This is an intensive week of study where participants learn about their state government.
Each year Fanning sends at least three boys and three girls to the conference. In order to do so he has to collect $1,800 in sponsorships to send the students for free. "I like to pick kids out of the student government," says Fanning.
Along with his role in Boys and Girls State Fanning also promotes the Voice of Democracy program essay contest that is run through the Ludlow Veterans office. "I had one student reach second place in the state," says Fanning.
Approximately 75 people attended the ceremony, which was more than Fanning expected. When his name was called for his award he was asked to give a speech. "I didn't even know I had to give one," laughed Fanning.
He was sure to mention three men who influenced him in his qualifications for this award. Former LHS teachers Leonard Charest, William Koscher, and Lou Casagrande. Kocher started the AP program at LHS and handed down the AP U.S history class to Fanning. Casagrande handed down the responsibility of Boys and Girls State selections to him as well.
"It was nice to recognized by the group but they were really recognizing the kids at LHS, not me," says Fanning.