LHS begins to recycle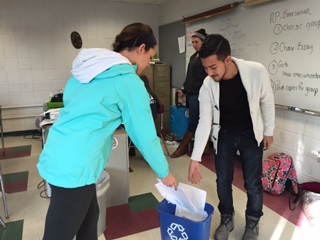 Every classroom at Ludlow High School now contains recycling bin in an effort to improve recycling at the school.
Along with the bin each teacher was provided with a handout displaying what belongs and doesn't belong in the recycling. Some examples of non recyclable products are paper cups or plates, paper towels, napkins and copy paper packaging.
"It is about time we started recycling," says teacher Tammy Cook, "I think it is essential and the responsibility of everyone who lives in the modern world to take care of it while we are here."
Previous to this purchase each classroom had an empty W.B Mason paper box marked "recycling," but the trash in these boxes weren't always recycled.
The push for proper recycling bins initiated with Interact Club president, senior Brooke Dias.
"Recycling saves LHS money and also important in preserving the environment," says Dias, "I'm very happy about the new recycling bins. I go through four water bottles a day, so I am happy I can recycle the plastic now."