Students, advisers may cancel Deck the Halls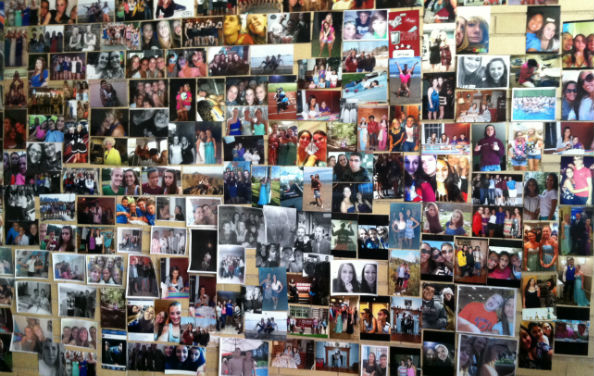 Due to fire code regulations, class advisers and student representatives have decided that the "Deck the Halls" tradition may be cancelled this year and replaced with another event.
"Nothing is decided yet," stressed Principal Lisa Nemeth. "I want the advisers to talk to each class about this issue and come up with ideas."
Firefighters from Ludlow Fire Department attended a meeting where they outlined regulations. It was obvious to attendees that "Deck the Halls" violated these rules in the past. Fifty percent of the wall space must be vacant. Nothing can project more than three inches from the wall. No foam is allowed and nothing can hang from the ceiling.
"I don't want to be a grinch," said Captain Ryan Pease, "but this is an issue of safety."
Senior Vice President Lia Fiahlo, said in the meeting that with these restrictions, Deck the Halls probably wouldn't be worth doing.
"If you've seen these hallways you would know there was stuff hanging everywhere," she said.
Students and advisers immediately started to brainstorm ideas that could replace Deck the Halls, which has been a tradition at LHS for eight years. The most popular replacement idea was a competition that involved class skits. Each class would perform several — maybe four — 10-minute skits that related to a particular topic.
"There would either be a talent show or class competition based on what class could write the best skit. Skit topics would be picked randomly," said freshman class advisor Keith Woodman.
Classes could sell tickets to the event, said Woodman. The class that wins the skit battle would receive a higher amount of the profit. This could reduce class dues, pay for class trips, or fund other class activities. In addition, some of the proceeds would go to a charity.
"I like the idea of skits," said junior secretary Emmett Dec, "It allows us to be more creative than just plastering things on the walls."
Some students are disappointed that Deck the Halls would be cancelled. "I think it stinks," says Freshman Mary Jordan, " I wish I was able to experience it because it was something that us freshmen were looking forward to."
Most students understand that the school has to abide by fire code regulations.
"I understand that it's a safety precaution but it takes the fun out of spirit week," says junior Kayla Miller, "It is about the whole class coming together. It's about the community, I'm going to miss it."