Students avoid touching white tiles for "Lava Day"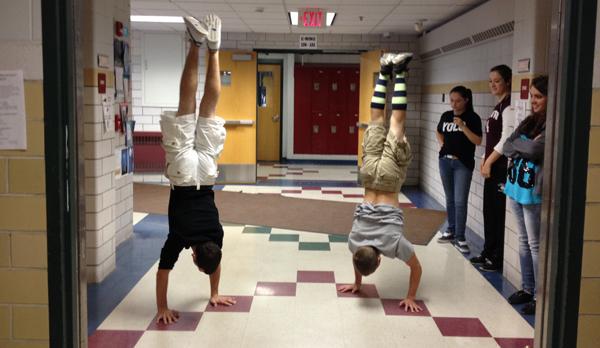 Ludlow High School seniors Alex Francisco and Ernad Minic declared that on Oct. 26 students would celebrate Lava Day, an annual ritual where all students are forbidden to step on the white hallway tiles.
"Ernad and I knew we wanted to do it soon," said Francisco. "We sat down with Lindsey Paradis, looked at our school calendar, and figured since next week is Halloween, this Friday would be perfect."
Throughout the day students could be seen jumping, stretching, and taking whatever means necessary to avoid the white "lava" tiles.
Lava Day was publicized only to the senior class after Minic added it to the LHS senior page on Facebook yesterday Oct. 25.
According to Minic, most of the seniors were excited about the idea and could not wait to participate.
"I really get into Lava Day," said senior Hannah Martin. "I think we all should do it, especially if you are a senior. This is our last year here and this is a way for us to bond and have fun."
One rule of Lava Day states that if a student steps on the "lava," he or she "dies" and must lay down. This happened to senior Jon-Luc Lavoie. But senior Derek Hoeckh came out of nowhere and threw him over his shoulder. Derek continued to jump only on the colored tiles. According to various students it was the most epic thing in lava day history.
"We made a pack that we'd save each other if one of us fell into the deadly lava, and in the end he was there to save me," said Lavoie. "It doesn't matter if we were over-dramatic or got yelled at by the surrounding teachers. Seniors need to go to the extremes and follow the rules. Plus, I know everyone falls into the lava every now and then, I was the only one with a truthful reaction."
The rest of the school also participated in Lava Day as soon as they heard the announcement this morning.
"My friends and I started preparing ourselves as soon as we heard the good news," said junior Lauren Gamache. "The seniors are not the only ones who get into days like this, we underclassmen do too."
According to Minic, he believes we need to have surprise days like this to liven up and energize our school, "It's our senior year, we have to make it count," said Minic.