Cote cuts back hours at LHS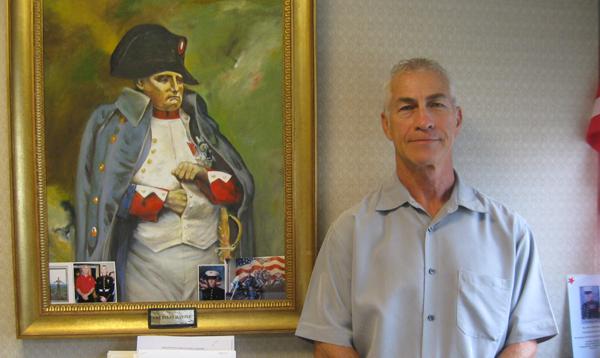 Attendance officer Thomas Cote has cut his work hours at LHS in half, from four days to two days, working only Wednesdays and Thursdays. Retired Ludlow police officer Dana Vigneault will serve as the attendance officer on Monday and Tuesdays.
Cote has said that he has various reasons for cutting his time back.
"As you get older you realize how precious time truly is," said Cote, who has worked at LHS for 16 years. "As much as I love Ludlow High, I'm going to be 63, and as you age, time becomes more valuable. Life is good and then you die."
A week after Nemeth approved Cote's job sharing, he found out that his son-in-law would be deployed to Afghanistan this coming May.
"This shows it was meant to be for me to cut back at this time," said Cote.
Cote's daughter, who now lives in California, will be moving into the area with her two young boys, two years old and 9 months. Cote is looking forward to helping out his daughter and spending more time with his grandchildren.
Cote's three sons and only granddaughter are also a main reason for his cut back.
"Two of my sons and my only granddaughter live in Maine," said Cote. "This allows me to go up there and spend more time with my family up there as well."
Cote's third son lives around this area in Springfield.
Cote commented that the main reason why his wife so easily agreed to him cutting back was because he promised he would take care of the chores around the house.
"I told my wife that I would do all the laundry, all the shopping, ironing, vacuuming," said Cote. "I told her I would even clean the toilets in the house. This way now on the weekends after finishing her full time job she can relax and not have to worry about it."
Cote added that a main reason as to why he is working Wednesday and Thursdays is because his wife has Mondays off and now they both can spend it together as well.
Cote's not worried about giving up the two days, and believes that Vigneault will be a good addition to Ludlow High School.
"Things will stay the same," said Cote. "People will come to find that [Vigneault] will have the same philosophy and standards as I do."
Vigneault  worked with the Ludlow police department for 28 years before he retired.
"I have never done much in a high school before, so it is totally different," said Vigneault . "But I am hoping that my background will allow me to relate to the students a bit, and will have some value here at the high school."
Although Cote is cutting back he still wants to take part in the school events, especially the Sgt. Joshua D. Desforges challenge that he created here at LHS.
Vigneault said he too would be willing to help with after-school functions,
"I would like to help out the school and be included and do as much as I can," said Vigneault.