Battle of the Classes kicks off with "Celebrate the Season"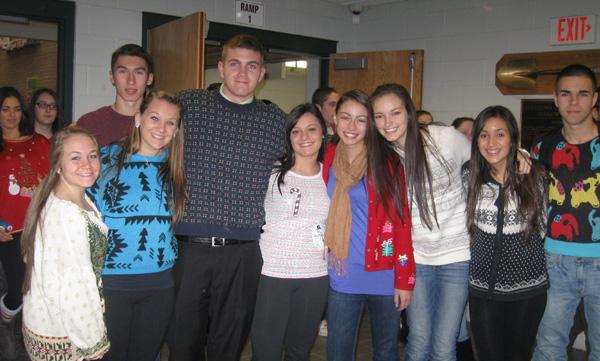 The winter spirit week began on Mon. Dec. 19 with school-wide friendly competition between the classes. Each class earns points based on the percentage of students who participate this week.
Students were roaming the halls decked out in their best holiday gear prepared to "celebrate the season," which was the first day of the spirit week. Students were wearing red, green, silver and gold and some were even dressed as elves.
Some classes were more competitive than others as only 2 percent of the freshman class wore the appropriate clothing. The juniors finished in third place with 39 percent of their class participating, the sophomores took second place with 43 percent, and the seniors took first with 49 perent.
"I feel on top, like we deserve it," said senior Juliana Cavallini. "We never win much."
On Tuesday, Spirit Week continued with "Tacky Sweater Day." Students and staff strolled in with their least favorite and least fashionable seasonal sweater.  Seniors once again took first place with 25 percent of the class rocking tacky clothing. Juniors followed close behind with 24 percent, the Sophomores with 20 percent, and finally the Freshman fell far behind with 11 percent.
Freshman Joe Forzano talks about his class participation in this Battle of the Classes event: "I'm a little disappointed. We tried to get people to do it but we have little class spirit. All the kids are afraid of what the upper classman think. Hopefully, there's a bigger turnout of kids wearing maroon today and red tomorrow than the past days."
We'll see who can step it up as Spirit Week continues with Maroon and White day on Wednesday and Class Color Day on Thursday, along with each classes' decked out hallways.