Cell phone policy goes into effect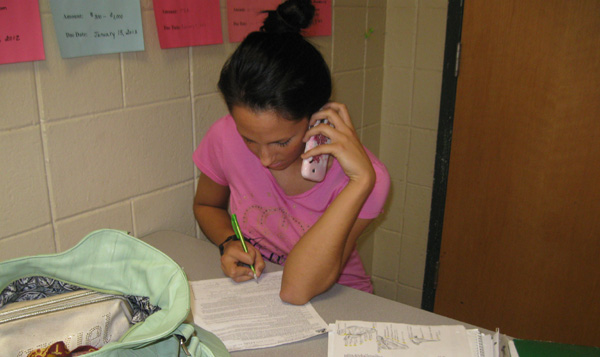 Andria Boland & Juliana Cavallini, Staff Writers
November 30, 2011
The cell phone policy went into effect Nov. 28, 2011. Students get to use their cell phones at all three lunches for a two-month trial period and can carry their phones on their person outside of the cafeteria as long as they are off or on silent. If it is heard or seen, though, normal consequences will be taken.
"I think it's a good way to show how LHS students are responsible and are able to handle the privilege of using cell phones in school," said senior Samantha Godding.
During the first day that this policy went into effect, many students were using their cell phones during all three lunch periods. When 20 kids were asked what they were doing during lunch with their cell phones, five were on Facebook, six were texting, five were playing games or were on other websites, and four were listening to music.
Some teachers support this policy.
"It'll be interesting to see how it's all gonna pan out," librarian Mrs. Cynthia Goodreau said. "Most kids are responsible but a couple aren't and one kid can ruin it for everyone."
Mr. Oliveira has said, "I reject the way it was done. I should have been consulted first. Teachers have a direct baring in fifth period. We were not consulted." Although he is very for technology, he thinks teachers should have had a say in the new policy.
"Yeah, I'm in favor of it, because in order for students to use phones in school responsibly we need to help them learn that," said Mrs. Linda Courtney. "Giving them trust and responsibility in lunch is a good start."
After this two-month trial period, how students behave with this policy will determine whether it goes into effect permanently.
Goodreau thinks, "When you have permission to do something, it may not be fun anymore… it might not happen as much."