Morning announcements schedule confuses LHS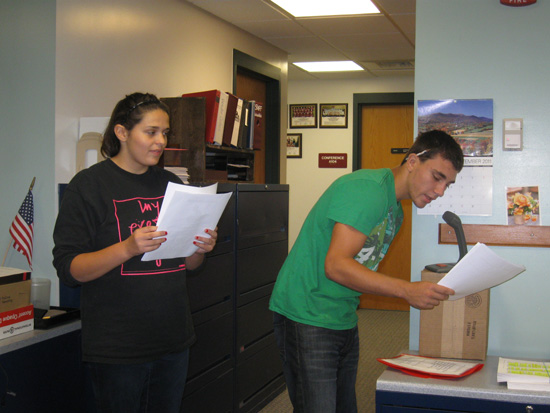 "Good morning, please stand for the pledge," has not been heard at 7:25 a.m. at Ludlow High School for the past two weeks, but instead throughout the school day during different periods, causing some confusion in classrooms.
Principal Lisa Nemeth decided to change the way announcements were done because too many students were late for first period. Also, according to Nemeth, many students didn't pay attention to the announcements.
"[I noticed] a lot of students in the hall after the 7:25 bell. It appeared that they believed that they did not have  be in period one until after the announcements," she said. "And, half the student body isn't awake to hear [them]."
Nemeth took her concerns to the faculty meeting to ask for suggestions from teachers.
The following proposals for when to do announcements are being discussed and voted on:
At the start of first period
At the end of first period
Rotating the announcements at the beginning of periods one through seven (except during period five)
By reading only the pledge and special announcements such as sports events at the beginning of period one, and have all other announcements typed and put in each teachers mailboxes
The same as above, but rotating the pledge during periods one through seven (except during period five).
Nemeth hopes to have the results by Monday and in the lead so far is having the announcements at the end of period one. On Friday, senior Chelsea Jeronimo began announcements at the end of period one and continued them at the start of period 2.
This morning a survey went out attached to all teacher's emails with a question regarding when to do the announcements. Students and readers of the Cub can take the poll at https://www.ludlowcub.com/ (lower right corner).
"No one cares about the announcements during third period, we only care about them during first," said senior Kaycee Pereira.
Nemenh favors the "handout" idea because she believes "it's beneficial for students to walk into their classes and see the annoucements posted on the board; this way students will be more informed and teachers won't have to call the office."