Students and faculty form push-up team for charity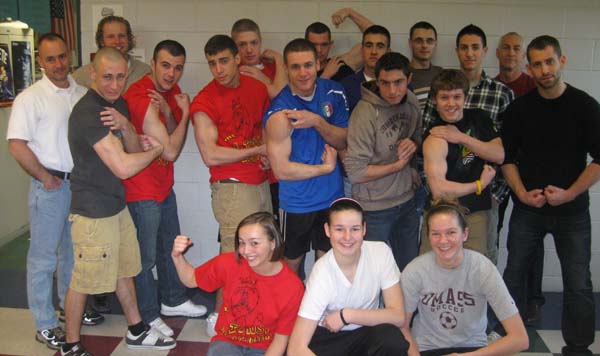 Mr. Tom Cote has formed a team of Ludlow High School students and faculty that will compete in a Push-up for Charity Challenge against the Ludlow police officers, firemen, and gym members at Core Fitness on April 16 at 10:30 a.m.
Proceeds go to the Wounded Warrior Project, a charity for those veterans who acquired service wounds physically or mentally on or after September 11, 2001.
"Ludlow became involved when [Core Fitness owner] John St. Sauveur called me and asked if Ludlow High School would be interested in being a part of the Wounded Warrior Program," said Cote.
Ludlow High students have been signing up with Cote in the cafeteria during all three lunches. He's still accepting participants.
"I belong to Core Fitness and the owner told me about this competition. I have a lot of respect for the people who are willing to fight or die for this country, and I am happy to do my part," said senior Brandon Quiterio.
The event is open to everybody, young or old, male or female, said St. Sauveur, who organized the event. In a 90-second push-up showdown participants must complete as many pushups as possible. The winning team will be calculated by the most push-ups from the top five participants of each team.
"Forget your ego, think about the wounded warriors who paid the price, this is a way to help them," says Cote.
It doesn't matter how many push-up an individual can do. Even those who can only do one push-up can still participate in the event and raise money for veterans.
The contest will be held outside in the parking lot of Core Fitness. Participants are welcomed to bring a yoga mat or other padding on which to do their push-ups. 
The only requirement is that each individual must raise at least $50 in donations by friends, family, co-workers, etc. The goal for the Ludlow Pushups for Charity Challenge is to raise at least $15,000.00 for the Wounded Warrior Project.
If you'd like to help out but can't do any push-ups, you can visit http://pushupsforcharityludlow.com/ and make your donation there.