First Person Perspective:Track and Field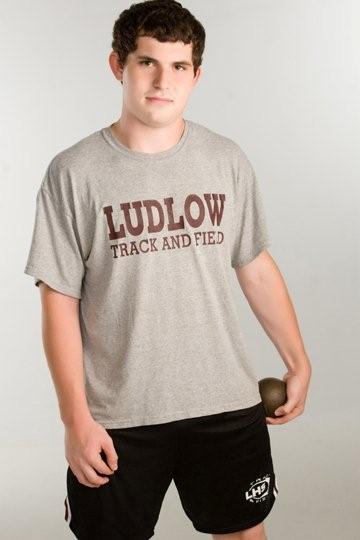 From June to March, I eagerly await my most coveted season in my athletic career: Track season.  It is during the Track season in which I achieve my favorite moments.  Each meet, during the shot-put event, all of my training to that point is compiled into each throw.
I have played many sports, and I can easily say with great confidence that the sport of Track and Field has been the most memorable.  Football was always a fun and rewarding experience, but the excitement and overall feeling I get once Track season starts is unmatched.
My first thoughts of Track that I can remember are my dad showing me his high school Letterman jacket from his team at Classical High.  He would explain to me all of the events, and I sat captivated by the great triumphs and feats of the sport.  He was, as I am, a thrower, but also a sprinter.  Javelin was his specialty, and his hard work in that event got him that letter.  It also helped him get into a Division I school, Northeastern, where he competed as well.  I was always mystified by the events that I do now, the shot put and discus throw.  He always told me that I could do any of these events given that I gave my maximum effort toward it, and that thought still embodies my training today.
After those discussions, I did not participate in any Track and Field events until my sophomore year of high school.  Instead I played the typical Ludlow sport of soccer and later basketball, but I always watched the Olympic throwers every four years.  In my sophomore year, I came out of my shell a little bit and participated in both football and of course Track and Field.  To this day I still remember my uneasiness about actually competing.
Through hard work, that uneasiness soon transformed into confidence, and I managed to throw 3 1/2 feet farther that I had anticipated. The feeling of throwing to me is different than any other moment in sports.  It is the most accurate measurement of your training and determination, and when you do better and better, it only makes you want more. Because of this success, I fell in love with competing and began to work even harder and train more often than I have for anything else ever before. Another motivator was one of my friends on the team, Steven Pashko.  Steve always encouraged my hard work and would train along with me, where we became great friends.  We would coach each other, pushing each other further and further to do better.
That next season during my junior year, I had my most successful year yet.  I was best on my team, slightly ahead of Pashko, so that also gave me some more motivation, as I didn't want him to catch up to me. I finished in 4th place in Division I, and 10th in Western Mass, both in only my junior year.  My personal best had jumped from 33'6 to 41'11 over that time. I also earned the position of captain for my senior season.
Another thing that has helped me out tremendously was the fact that my dad built me my own shot-put circle in my backyard.  He realizes the importance of off-season training and practice, and now I can do both of those things without going to the school's track.
Now entering my senior season, the excitement has returned tenfold.  I'm extremely anxious for a successful spring, following that long winter.  The lack of an indoor team here at LHS has definitely been a hindrance due to the fact that every other team in our league has one, so in theory they have a whole season basically ahead of us.  However, I do my best not to let that stop my success, I continue to train rigorously and hope that this year is one to remember.
After high school, I will be throwing at Worcester State University, where I was recruited late last year.  There  will only continue to train and work hard to perform my best at the sport that has always captivated me most.