Benefits and Downfalls of Year-Round Soccer Players
For some student-athletes, a regular soccer season isn't always complete after only a few months; many soccer players at LHS decide to go above and beyond to follow their passion and play their sport all year round.
Whereas some may view this as a hassle, others take on the challenge of playing the sport year round and dedicate themselves to achieving their end goal of excelling in soccer; stating that the hardships of sore legs and missing events are outweighed by the benefits of team comradery and positive end results. Soccer players like myself value the sport as an effective escape from the stressors of the outside world—the clean-cut, freshly painted field, receiving compliments when breaking in brand new cleats, the adrenaline pulsing through our veins on game days, and the roars of the engaging student section motivating the team to perform our best.
Julia (Juju) Colson is a current eleventh-grade, student-athlete here at LHS participating in varsity and club soccer for the high school and FC Stars White and outdoor track while continuously engaging in the school aspect to maintain exceptional grades in her honors and college-level courses as shown by her withstanding, phenomenal GPA.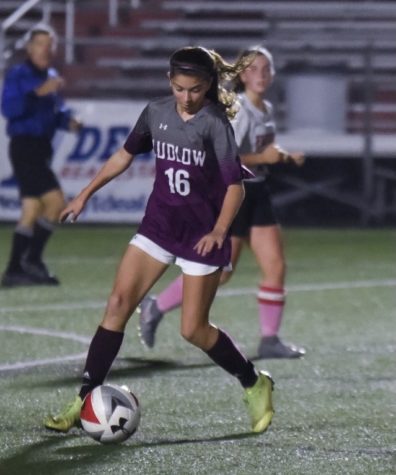 "Playing soccer year-round can be stressful when overloaded with school work and weekly practices, but also keeps [her] on task to ensure that [she] gets all [her] work done before practice," she said.
High school can be extremely demanding, yet Juju Colson definitely shows that success is attainable if the student-athlete is willing to persevere and take the challenge head-on. The time management skills these year-round soccer players are developing will be carried forth into the college years when some student-athletes will continue their soccer career while balancing their rigorous college courses.
Year-round soccer can be somewhat burdensome but is more importantly valued and proven to be beneficial due to the fact that it "keeps you in shape year-round, you are never bored, and relationships are made that [she] hopes will last a lifetime," Colson said.
Positive friendships can be developed amongst teammates through soccer tournaments, where team bonding is encouraged amongst the group allowing for players to connect with others they may not speak to often, and build team chemistry that can be carried on and incorporated on the pitch to improve the overall team performance.
This change in chemistry is improving each individual's confidence in themselves, encouraging them to always put their best foot forward to ensure that teammates all work together to continue achieving their desired end result: winning. Furthermore, this is improving the overall "vibe" of the team while making their soccer experience that much more enjoyable and worth every penny spent.
Isabella (Bella) Provost is a graduated senior from the class of 2022 here at LHS and is continuing to pursue her academic and athletic careers at Assumption University this fall. Provost competed in varsity and club soccer for the high school and NEFC West and indoor and outdoor track and field during her high school years. Provost is known to be exceptional at all she puts her mind to in and out of the classroom, as shown by her appearance in the high school honor roll, and in her numerous Western Mass and state performances.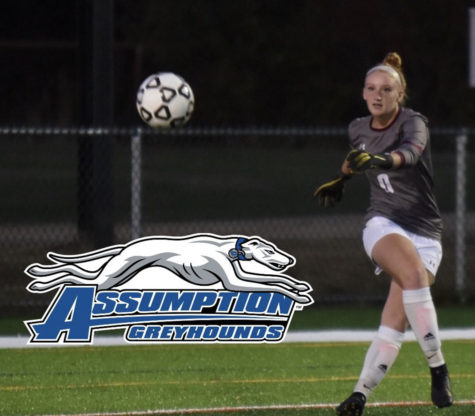 When asked her opinion on participating in a year-round sport, Provost replied with the fact that she encourages all athletes no matter the sport to consider trying out a year-round sport to "increase social skills" and become involved in a "competitive environment" that she feels "helps [her] pursue being the best individual [she] can be".
This enjoyable, yet demanding lifestyle is most definitely easier said than done, and undoubtedly comes with many challenges and inconveniences throughout the year.
Haleigh Tauscher is a current eleventh-grade, student-athlete here at LHS participating in JV and club soccer for the high school and NEFC West. While balancing the rigor of junior year classes and a part-time position at the Chicopee Dunkin' Donuts, her resilience and determination to excel in the classroom and on the field do not go unnoticed as she is achieving honor roll and has maintained a starting midfield position on both of her soccer teams.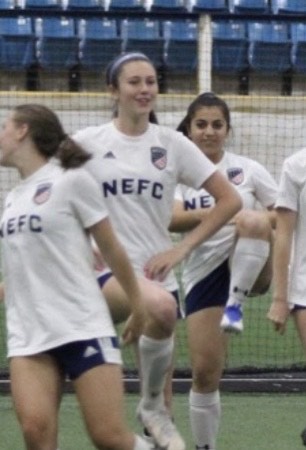 Tauscher points out that committing herself to year-round soccer while juggling the work that comes along with being a successful student can be "distracting and stressful" due to the fact that time is scarce between her school day and soccer practice, therefore pushing her homework load to be completed after practice resulting in late nights and lack of proper focus in order to put in her best effort.
Tauscher also admits that even though she enjoys all that year-round soccer has to offer, the difficult double of school and sports can be significantly overwhelming as athletes are constantly on the move day in and day out without any time to spare.
While finding time to complete homework without staying up until the crack of dawn is a popular, reoccurring issue amongst most student-athletes, another downfall includes the lack of availability to attend social gatherings or spend time with friends and family.
Bella Provost agrees with this claim as she adds that she misses out on "being able to hang out with friends" as this is her senior year of high school and she wants to be able to enjoy and participate in all activities and opportunities available to her.
Haleigh Tauscher also feels that due to her tight commitment to year-round soccer she is "missing out on other sports that [she] wishes [she] could try like other high school sports and after-school clubs and activities".
As proven by these dedicated student-athletes, balancing the rigor of high school and the commitment of being an active member of a year round-soccer team is certainly manageable and recommended as long as the athlete is willing to put their best foot forward and be determined to overcome any challenges or inconveniences that lay on the unknown road ahead. Life is a never-ending bumpy road, and you are in the driver's seat, so take every opportunity given to truly become the best version of yourself, and make the most of all that life has to offer to you.