Fractures in Three's
While sticks and stones may break your bones, it's more likely that you would suffer this type of injury on the athletic field or in the high school gym.
So far in our series, we've discussed concussions, ACL tears, and hip surgery. Now it's time to report on the most common athletic injury among Ludlow High School students: bone fractures.
This year, Madison Giebner, Arda Ibas, and Kaitlyn Stephenson experienced fractures in various bones throughout their bodies.
Fractures are cracks in bones of the body. Fractures happen when someone falls or when sudden impact on a bone occurs. The three athletes suffered from the most common type of fracture, a simple fracture, which doesn't affect surrounding tissue. In contrast, a compound fracture leads to infection in the surrounding areas of the fracture.
When people experience fractures, they feel intense pain in the area, especially when applying pressure to the bone or creating movement. Another occasional sign of a fracture includes swelling and bruising.
In order to check for fractures, doctors first perform a physical examination and ask the patient questions about how the fracture occurred. If the doctor sees a possibility of a fracture, then the patient will have an X-ray or sometimes even an MRI on the bone. This way, the doctor can clearly view the fracture and determine its severity.
To heal a fractured bone, patients wear a cast for several weeks and then go through physical therapy before returning to their usual activity. Patients need surgery in severe cases.
An Arm Fracture
October 26, sophomore Madison Giebner suffered a small fracture in her radius, connecting to her growth plate. While running during volleyball practice, the strong grip on her new volleyball shoes caused her to fall. Her body fell onto her right arm, leading to a minor fracture.
Giebner went to her doctor only about 30 minutes after the incident, where she was informed the injury was not severe and would only take a little over a month to heal.
For five weeks, Giebner's rested her right arm in a maroon cast to represent Ludlow High's colors, maroon and white. She says she did not feel intense pain as long as she did not make large motions with her arm.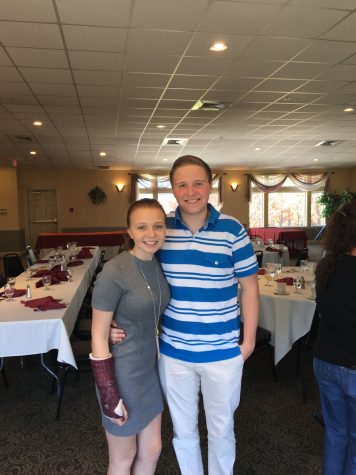 Giebner described how her injury affected her daily life in terms of exercise. She exercises daily either at her house or during volleyball practice. A restriction in the amount of movement she can make changed her daily routine.
Luckily, Giebner's fracture did not affect her school work. "I write with my left hand so I wasn't affected much in my academics."
Giebner's task became regaining strength in her right arm. "I've been out of volleyball training for a while, so when I finally got back into play my strength and skills had decreased," Giebner explains. She returned to volleyball this past weekend to tryout for an Elite travel winter league team.
Giebner broke her arm five times prior to this injury. Three out of the five instances were just a few years ago during her eighth grade while, and the other was in seventh grade.
Giebner even admits to some perks of fracturing her arm: "I get out of gym and I don't have to do chores around the house."
A Leg Fracture
While sophomore soccer player and wrestler, Arda Ibas dribbled with the soccer ball during a big game, a player on the other team stepped on his foot while trying to steal the ball.
Ibas noticed intense pain after the game when all of his adrenaline faded. "It was really difficult to move my leg even a little bit when it first happened." He immediately went to the emergency room where, after several hours, the doctor told him that he fractured his growth plate and part of his right fibula connecting to his ankle.
Ibas felt shocked upon hearing this information. "I expected my foot appear as basically dangling from my leg because I've seen that happen to other athletes with similar injuries."
For the next four to six weeks, Ibas will make his way around using crutches until his leg heals. He says it no longer hurts unless he puts pressure on it while walking.
Meanwhile, Ibas can't move around more than necessary. "It took me out of my daily exercise and prevented me from taking part in many activities with my friends such as bowling and volleyball. I'm just laying down on a couch all day," says Ibas.
The fracture in his leg now prevents Ibas from working on his athletic performance because he can't prepare for the upcoming wrestling season. Luckily, he will only miss a small portion of the season, and it won't affect any other sport he plays. He plans on trying out volleyball this spring.
"I've had too many injuries to count," Ibas laughs. He hopes to come out of this experience with a strong left leg, considering he puts all his weight on this leg while he uses crutches.
An Ankle Fracture
The season had started out rough. Out of their first five games, the Varsity Lady Lions soccer team had lost four and tied one. It was now halfway through the season and losses were turning into wins. The Lady Lions maintained an undefeated record throughout the next five games after their harsh opening to the season.
And they were determined to preserve that record in their game against Agawam. The girls started the game strong, mentally and physically, however, the game remained scoreless.
The team tried to string multiple plays together to put the ball past the Agawam defense to gain a scoring opportunity.
In an attempt to get in range of the net in hopes of scoring a goal, a through ball was passed to Kaitlyn Stephenson who ran onto it. The Agawam defender on Stephenson's side rushed to challenge her. A battle for possession of the ball ensued and the opposing team's player pushed Stephenson, leading to a rough fall and a twisted ankle.
Stephenson fell down instantly.  The athletic trainer, Ashley Mourao assisted Stephenson off of the field to examine the severity of the injury.
"[The athletic trainer] thought I fractured my ankle so my mom had taken me to Urgent Care to get X-rays," Stephenson told.
Urgent Care, a walk-in medical clinic, diagnosed Stephenson with a torn Achilles tendon.
The Achilles tendon connects the calf muscle to the heel bone with a flexible, although inelastic, cord of collagen tissue that. A rupture in the tendon commonly occurs when playing sports due to the extended position it takes when pushing off the ground forcefully.
A rupture in the Achilles' tendon occurs in 1 in every 15,000 people, however, the risk increased to 1 in 8,000 for athletes in competitive sports.
The surgery needed to repair the rupture makes the injury serious. The recovery period post-operation, averages to around six months with physical therapy to restore the mobility of the ankle.
A week after her diagnosis at Urgent Care, Stephenson had an appointment with her orthopedist to confirm the season-threatening injury. After examining her ankle, the orthopedist told Stephenson that she had been misdiagnosed.  
Stephenson said, "[The orthopedist] diagnosed me with a grade three sprain which consists of high and low ankle sprains."
A grade three ankle sprain is a complete tear in the ankle ligament, meaning the ankle is unstable, lacks the ability to move and function, and bear weight. A grade three sprain takes, on average, 8 to 12 weeks to fully heal.
However, due to the instability of her ankle, Stephenson was unable to walk on it and had to wear a boot for the month of October.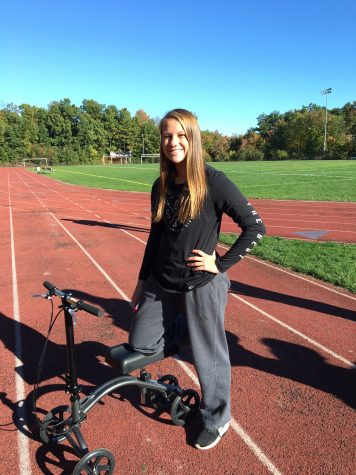 "I couldn't walk on it for two weeks. I used a scooter to get around because it was easier."
Not only was Stephenson struggling to recover so that she could walk again, she was trying to cope with the fact that she would most likely be on the bench for the rest of her team's season.
"It was a hard recovery because I just wanted to play with my team," says Stephenson.
With lots of rest and ice, Stephenson was on her way to being cleared. She was off the scooter and trying to support her team in anyway she could.
"I helped pick up cones and get balls. I did whatever I could to help out."
Stephenson was cleared only four weeks after her diagnosis, a stellar feat considering the average recovery time lasts eight weeks minimum. She returned just in time to train with the Lady Lions for their upcoming post-season tournament.
"It felt great to be back on the field. I missed it, and my team, so much," Stephenson exclaimed.
Just because Stephenson was cleared to return, doesn't mean that she stopped her recovery.
"I make sure to do my strengthening exercises at least three times a week to prevent an injury from happening again."
According to HealthDay, fractures make up about 10 percent of high school athlete injuries. Fractures occur in a higher percentage of boys than girls because fractures commonly occur with physical contact in sports such as football and hockey.
To prevent bone fractures, athletes need to keep their bones strong by consuming a large amount of calcium and vitamin D. Exercising regularly also prevents fractures because it builds up muscle around the bones.