Cheerleaders get a new team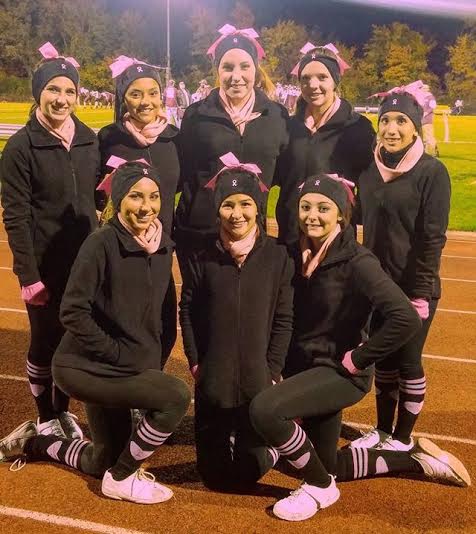 This year the cheer team has shrunk by almost half, but that hasn't stopped the girls from showing their spirit in the gym and on the track at games.
Currently there are eight girls on the cheerleading team compared to having 15 or more girls in year's past. The squad is led by head coach Kelsey Danitis and junior captain Sarah Martins. LHS graduates of 2008 and 2009, Sisters Caitlin and Stephanie Van Aller serve as assistant coaches.
"Having a smaller amount of girls can be seen as an advantage and disadvantage," says sophomore Danielle Dart, "Having less girls on the team makes it easier to find out what's not working but at the same time there aren't many stunt groups."
There are no technical positions in cheerleading but there are spots. These spots include flyers, the girl in the air; bases, the ones holding the flyers feet; and back spots, the one who spots the flyer in the air at the ankles, calves, or thighs. These positions are all interchangeable.
"I like having a coach who used to be a flyer," says Dart, "and since I'm a flyer she can give me good tips on what to do and what not to do."
The cheerleaders say that the coaches this year are understanding and have an idea for what they will do as a routine during the competition season.
"I love the coaches this year," says Dart. "They all understand my craziness."
Martins had also explained how she enjoyed having the new coaches because there's new opportunities for the whole team.
Cheerleading is not considered a sport at LHS. The cheerleaders have to pay more expenses than other teams at LHS. They pay for everything including transportation, uniforms, gym time and any other accessories, such as pom-poms and bows.
"Ever since I was a freshman people have been making fun of cheerleading and saying it's a joke," says Martins. "They say that it isn't a sport and that we don't do anything."
The cheerleaders practice every Monday, Wednesday and Friday from 6-8 p.m. in the back gym. They practice tumbling, stunting, jumps, and begin preparing for their competition season for the winter. Sometimes they even close off practice with conditioning.
Conditioning can vary. The girls could go from doing suicides or to doing burpees and crunches.  
Along with cheering for the LHS football team during their home games and still doing their own practices, the cheer team will also cheering for the boys varsity basketball team at their games.
In addition to cheering at the basketball games, they will also be competing during the winter. The date they will begin competitions will announced at a later date.