This is why they call it March Madness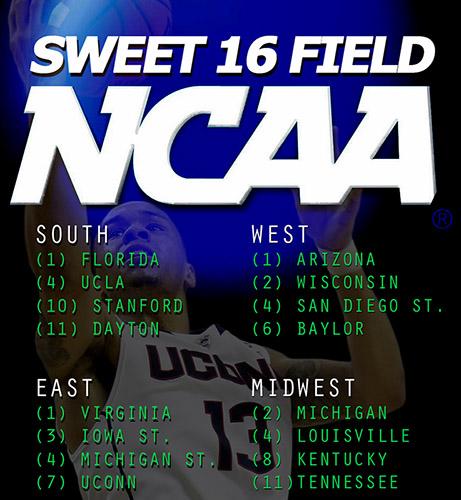 March Madness: one of my favorite things to watch every year. This year so far is tough, but I think it is the most intriguing year that I've ever seen because at any moment any team can beat any team.
The NCAA tournament is halfway over. The first half was interesting because of all the upsets. And now this weekend we are at the Sweet 16 and many of the top seeds are unfamiliar with their competition. Who would have thought #2 Michigan would be facing #11 Tennessee? Anything can happen this year.
The Sweet 16 is where 16 teams play the toughest basketball of the whole tournament; and after Thursday and Friday are over, there will be only eight teams left.
Here are my predictions for Thursday March 27:
Dayton University will beat Stanford because Dayton has a great defense and their whole team shoots over 50% from the field. They live off of their defense and, just like Florida, turn it into offense.
Baylor University will upset Wisconsin University because Baylor held the country's leading scorer, Doug McDermott, to only 15 points (and he is averaging 25 points per game). They also beat Creighton University by 30 points. I think they will beat the Badgers with defense.
Florida University will beat University of California, Los  Angeles (UCLA) because Florida turns defense into offense. They come up with steals and run a fast break.
Here are my picks for Friday:
Arizona University over San Diego State University

Michigan University over Tennessee University

University of Connecticut over Iowa State University

Louisville University over Kentucky University

Michigan State University over Virginia University.
I'll be back on Monday to recap the Sweet 16 and Elite 8 and make predictions for the Final Four.