Ludlow girls volleyball holds Spike It For Life event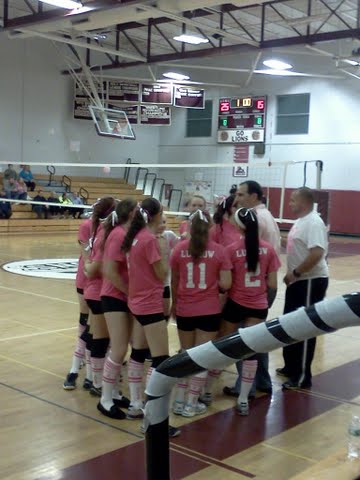 The Ludlow girls volleyball Spike It For Life event on Oct. 18 raised over $2,000 towards the fight against breast cancer and the money will be going to the Rays of Hope foundation.
Spike It For Life started in 2009 as a community service project for the Longmeadow High School girls volleyball team.
It is a unique collection of independently run volleyball events in Western Massachusetts designed to raise money for various Cancer research programs and supporting services.
During the month of October, independent fundraiser events will go on to benefit various local Cancer programs. Spike It For Life is unique because each school that hosts this event is allowed to choose its own cause to raise funds for.
The Ludlow girls volleyball team played Wilbraham Monson Academy (WMA) and they played until the first team reached 100 points.
During the game the girls had breaks when the first team had reached 25 points, and during the breaks, there were raffles for prizes and a 50/50.
Even though the game was a fundraiser to raise money to donate to breast cancer, Ludlow beat WMA 100-76.
"We raised over $2,00 for the ROH foundation, which is more than we ever have before. It was so great to see so many students come and support us, it was overall a really fun night," said senior Aly Bruneault.
There were tons of prizes that were given out that night like; a soccer blanket, gift cards, t-shirts, sports passes to high school games, and many other different things.
Also, there were many different types of goods to snack on like; brownies, cupcakes, cookies, pretzels with toppings, and hot dogs.
Many people came out Friday night to show their support for the girls volleyball team and the students and parents also wore pink to help support breast cancer.