Welcome to the end !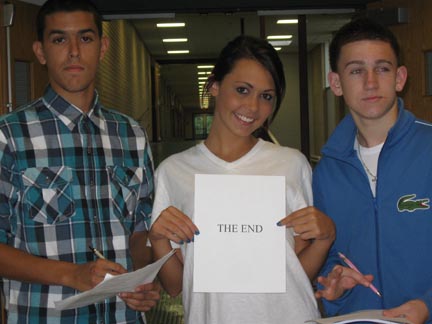 I would rather be able to recall the delicious taste of the fruit punch than just remember its color. I feel the same way about senior year.  The more there is to recollect about something noteworthy, the greater its value.
Before you know it, we'll be on stage at UMASS, listening to a remarkably familiar speech, eagerly waiting to throw our caps in the air, wearing the same gowns worn by alumni from years before us.  But at that moment, would you rather have that be your only memory of senior year, or have it be the last of many?
My point is, get involved.  There's no way that celebrating our last year here at LHS is going to hurt.  However, if you don't get involved, you're just hurting our senior year.  Half the fun of showing up to a soccer game or a dance is seeing your friends.  If half of our grade isn't there to watch that winning basket or decorate our hallway, then the rest of us who are there are missing out on a memory of all of us coming together.
If everyone's at Homecoming, then no one will remember it as "boring." If everyone's cheering on the undefeated 2012 Powder Puff team, then the positive atmosphere will just increase.  I'd rather spend a soccer state championship with our whole class chanting our boys on then watching a game with one other friend.
So before you determine your mind-set about senior year, think about what exactly senior year is.  Senior year is the last chance we have to spend time together as a class.  After this year, we're all off on our separate roads. Take advantage of it.