Ludlow remembers Josh Desforges
Honor, Courage, and Commitment are the core values of the United States Marine Corps, the values that the brave men and women serving our country dedicate themselves to upholding through their honorable service.  Perhaps no resident of the Ludlow Community emphasized these values throughout their life more than Sergeant Joshua D. Desforges, a Ludlow High School alumni and United States Marine who bravely gave his life while serving in Afghanistan in 2010.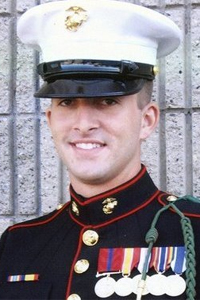 Today, Josh is remembered through the memorial dedicated to him behind Ludlow High School, the Sgt. Joshua D. Desforges Scholarship, and the Sgt. Joshua D. Desforges Physical Fitness Challenge, an event that occurs in the spring of every year to raise funds for the scholarship.
As the Ludlow community celebrates Memorial Day this weekend, it's important to reflect on the life of a man who made the ultimate sacrifice.
School Days
Few people find their true passion early on in life; this cannot be said for Josh.  However, this passion was not found within the walls of a school.  "He did what he needed to do to get through school," his mother, Arlene Desforges, describes.  During his time at Ludlow High School, Josh met and befriended fellow Marine and school attendance officer Tom Cote, who acted as Josh's mentor and kept him on track to make sure he graduated.  
The same can be said about sports, despite Josh having tried all that was available to him.  "He had done every sport: hockey, baseball, soccer," Mrs. Desforges explains, "but nothing ever struck him."  
However, the traditional school subject that he did capture an interest in was history.  One of Josh's favorite teachers, the now-retired history teacher Brian Bylicki, said that "Josh was a curious student who was interested in learning about various places and people in the world."  
There were a few particular historical topics that Josh found an even deeper interest in. Room B112's own Martin Fanning remembers that "he particularly paid attention in class when we talked about the Civil War, WWI, and WWII."
His mother even recalls often finding him having fallen asleep watching the history channel on TV: "You would think kids would fall asleep watching MTV or something like that; he would always fall asleep to the history channel."  
Despite Josh's mellow attitude toward school, he knew that acquiring a high school diploma was necessary for his real goal: becoming a United States Marine.  Towards this goal, he held a passion that no force on this planet could have stopped him from pursuing. Thus, Josh graduated from Ludlow High School in the spring of 2004.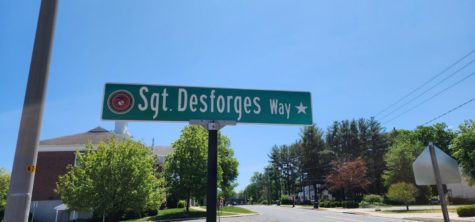 The Young Marines
While Josh did not find much excitement or interest in school, he certainly did in the Young Marines, a national organization that allows boys and girls from ages eight to eighteen to learn about leadership, community service, discipline, and life as a Marine.
It was clear from a young age that Josh was going to be a Marine.  He would build forts in the woods and even handcrafted his own ghillie suit from some cammies and camouflage material that he glued to the cammies.  Instead of playing hide and seek indoors, Josh preferred wearing camouflage and hiding in the woods, requesting that his parents come and look for him while he hid stealthily among the brush.  Josh enjoyed the outdoors and the presence of nature, a valuable sentiment as a Marine.
With the dream of being a Marine in sight, Josh enrolled in the Westover Young Marines at the age of 13, a clear next step in his path.  He had found his niche.  For twelve weeks, they met every Thursday for a few hours, going through a boot camp-like course that mimics Marine training and disciplinary skills.  "Glorified boy scouts" as Mrs. Desforges describes it, the participants also went on "survival weekends" where they participated in activities that taught important survival skills.  
The Young Marines opened many doors for Josh, allowing for a multitude of new experiences.  He attended multiple leadership schools, went to the Gettysburg battlefield, and even traveled to Iwo Jima on a veteran's reunion trip.
Upon joining the Marines, Josh would make good use of his newly acquired skills in self-discipline and leadership instilled in him through his years with the Young Marines.  To Josh, graduating from the Marines acted as his real graduation, more meaningful to him than graduating from high school. 
"Lived Life Full Throttle"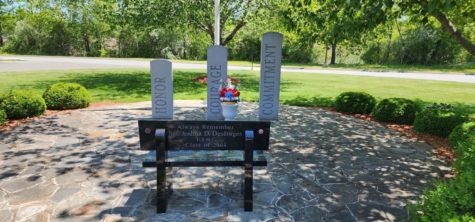 Josh was not the kind of person to sit around at home all day; he always "lived life full throttle" as Mrs. Desforges described it.
Upon being inquired by some friends about the possibility of going skydiving, Josh had no hesitation in joining them in their quest to jump out of a plane thousands of feet in the air.  Another time Josh spent a few thousand dollars investing in some kiteboarding equipment in a quest to teach himself how to kiteboard.
A year before entering the military, Josh even began working on a J-20 Jeep rock crawler, a vehicle designed to be able to drive anywhere, road or no road.  It matched Josh's adventurous personality perfectly.  And although Josh himself would never get to finish the project, his friends and his father would eventually get the J-20 to run.
Josh lived life to the fullest each day, he was always willing to try any and all activities, even the ones typically seen to be more daring.
Semper Fi 
Soon after graduating from high school and the Young Marines, Josh enlisted in the United States Marine Corps in September of 2004.  He attended boot camp in South Carolina and later attended the School of Infantry, reaching the rank of Sergeant on January 1, 2008.
Josh's first deployment was from March of 2008 until September of the same year.  He also spent two tours as a squad leader to the 1st Battalion 6th Marines in Afghanistan.
During his time in the Marines, Josh formed a family bond with his Marine brothers, a relationship that lives on through annual reunions between his family and the Marines he fought shoulder-to-shoulder with.
For his valiant service, Josh received a multitude of awards, including the Global War on Terrorism Service Medal, the Sea Service Deployment Ribbon with one Bronze Star, the Afghanistan Campaign Medal with Bronze Service Star, the National Defense Service Medal, the Combat Action Ribbon with one Gold Star, the Navy and Marine Corps Achievement Medal, the Marine Corps Good Conduct Medal, the National Defense Service Medal, the Navy Meritorious Unit Commendation, the NATO Medal-ISAF Afghanistan, and ultimately, the Purple Heart Medal for his sacrifice.
On May 12, 2010, Josh died while supporting combat actions in Marjeh, Afghanistan, located in the Helmand province.  He was 23 years old.  He was brought back to the country he gave his life for on May 20, his birthday.  
"People Have Never Met Him, but They Feel Like They Know Him"
The town of Ludlow mourned the loss of a loved member of the community.  School was closed, and a large crowd formed a procession as they lined Chapin Street while the high school band played in remembrance of Josh.  
Inspired by this act of kindness, the Desforges family wanted to give back to the community that gave them so much support, and so the Sgt. Joshua D. Desforges Scholarship was created.  The scholarship is awarded to whoever can best write about their life's passion, no matter what it may be, in the same fashion that Josh exemplified his passion for being a Marine. 
Needing a way to raise funds for the scholarship each year, the Sgt. Joshua D. Desforges Physical Fitness Challenge was also created in collaboration with the scholarship.  Josh's high school mentor, Tom Cote, organized the creation of the event, which originally mimicked Marine-style training with its arduous challenges.  
The challenge is not for the faint of heart. Gym teacher and track coach Rebecca Gauvin came out victorious in 2013, citing it as being "one of the hardest experiences I had gone through."  After a few years, the challenge was changed to being a four-mile run with some other physical tasks included as well, allowing for greater participation from the whole community.
Additionally, the community came together once again to supply funds for the building of a Sgt. Joshua D. Desforges memorial.  Designed by Maureen Cotti and facilitated by Tom Cote, the memorial replaced the decrepit shrubbery that used to call the small green space behind the high school home.  It now serves a dual purpose as both a memorial and a peaceful environment students commonly take advantage of while studying.
The road in between the high school and the town hall was also named in his honor, the same road that leads up to his memorial.
Josh was an unstoppable force when pursuing an interest of his.  Ever since he was little, he had his eyes set on becoming a United States Marine, and therefore there was nothing that would stop him from achieving that dream.  Everything he did, he did with complete dedication and the ferocity of a Marine wanting to take on the world.
"He was Josh, our son, our daughter's brother, and a friend to all," said Mrs. Desforges, adding that "People have never met him, but they feel like they know him."  He was and still is an inspiration, a role model citizen, and a hero that gave everything he had for his country.  He was Sergeant Joshua D. Desforges.